With the spread of COVID-19 from China to the rest of the world, one government after another has launched quarantine measures to control the spread of highly infectious virus.
But seventeen years ago, the SARS epidemic exploded in Taiwan, leading authorities to seal off one of the largest sites of infection, Taipei City's Heping Hospital (和平醫院). Isolated and alone in the hospital, many doctors, nurses and patients died of SARS-related complications, an event that shocked the nation, and raised awareness about the danger of epidemics. The public took the lessons of the tragedy to heart and vowed to never make the same mistakes again.
But for three doctors who lived through the lockdown at Heping Hospital, the most extensive quarantine in Taiwanese history, the memories still linger. Some defied the orders, some saw it is a mission, and some wrote about their experiences. They each chose their own path, and their decisions continue to reverberate today.
Part 1: The Doctor Who Disobeyed
On strolls from their home to nearby Dapo Pond (大坡池), an elderly couple are met with frequent smiles from villagers, and the incessant call of "Dr Chou!"
Chou Ching-kai (周經凱) is the most well-known doctor in Chishang (池上), a rural village located far away from a major hospital. For years, Chou has helped locals with all sorts of medical issues, from choking on a peanut and a bee sting, to cellulitis and chronic disease.
When a sick person calls for an ambulance in Chishang, they instinctively blurt out "take me to Chi-en Clinic" (池恩診所). Chou came to Chi-en Clinic in 2009, deciding to don his white coat and stethoscope once again.
When Chou first arrived, Chishang had yet to become a tourism mecca for its lush green rice paddies and spots like the "Takeshi Kaneshiro Tree" (金城武樹), Mr. Brown Boulevard (伯朗大道), Paradise Road (天堂路) and the Rice Harvest Music Festival (稻穗音樂節) still unknown to the general public. Chishang was quiet and simple, a typical small farming town in Taiwan's East Rift Valley.
The residents didn't know much about this doctor in his 60s who had worked as the director of a major hospital in big city Taipei, but they welcomed him with open arms all the same.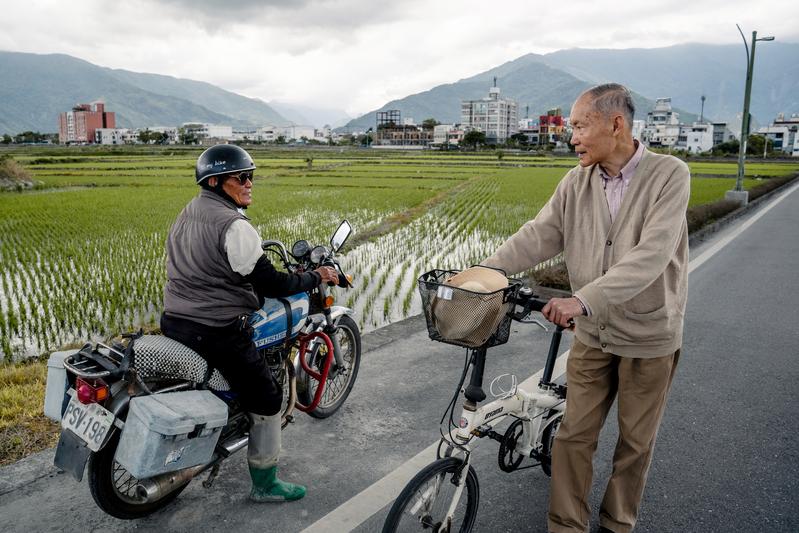 Chou had been a surgery specialist for 30 years, and running a basic village clinic was unfamiliar territory for him. It was as if he was back in medical school: his newly purchased texts were filled with his handwritten notes and clippings from recent medical reports. In the rare periods of respite from seeing patients during his long working hours, he takes a train to Taitung to attend seminars organized by medical associations, where he has become the most familiar face from Chishang over the past few years.
Two years after opening his business in Chishang, Chou had a case of peritonitis due to a delayed appendectomy. Luckily, he managed to find a rare opening in the operating schedule at the Mackay Memorial Hospital in Taitung and did not go into sepsis.
"I called the emergency room doctor to ask if it was life threatening, since his white blood cell count was already very high," said Mrs. Chou. "The doctor told us, 'if it's life threatening, it's also because of your own delay.' I was really taken aback! SARS didn't kill us then, and now he moves here and works himself into a case of peritonitis."
The Stigma of Being the "Doctor Who Ran Away"
On April 24, 2003, the Taipei city government announced that the municipal Heping Hospital would be quarantined because of a widespread SARS infection in the building. All doctors, nurses, and administrative staff were required to accept the quarantine and report for duty that day. "Deserters" would be punished to the fullest extent under law.
Close to a thousand medical workers, as well as patients and their family members, were forcibly sealed inside the hospital. Without any measures from the government to augment the quarantine, spread of disease and fear of death compounded one another inside the hospital. Some people leapt from the windows to escape, while medical workers protested loudly at the barricades and posted signs begging for help on windows. Images of the chaos were broadcast by the news media every day, and the public fell into a collective panic.
As the hospital quarantine crept up in two weeks, 57 medical workers were infected and 7 died. Among the patients, 97 were infected, 24 died, including one who committed suicide.
As news of the situation spread across Taiwan, the "Heping Hospital Quarantine" was dubbed the second "disaster of the century", after the 921 Earthquake.
Chou Ching-kai was the only doctor who refused to return to the hospital as ordered immediately. Under threat of arrest by the city government, he finally reported for duty on May 1st. After the quarantine was lifted, the city government fired him for committing two major demerits under the Civil Service Discipline Act (公務員懲戒法). He was prohibited from practicing for three months under the Physicians Act (醫師法) and was fined $240,000 NTD ($8,000 USD). At the time he had already accrued 24 years of public service and was one year away from retirement.
His decision destroyed his reputation overnight. Once the doctor with the highest evaluations for treatment quality in the entire hospital, he was now being cursed by the public as "Dr. Deserter."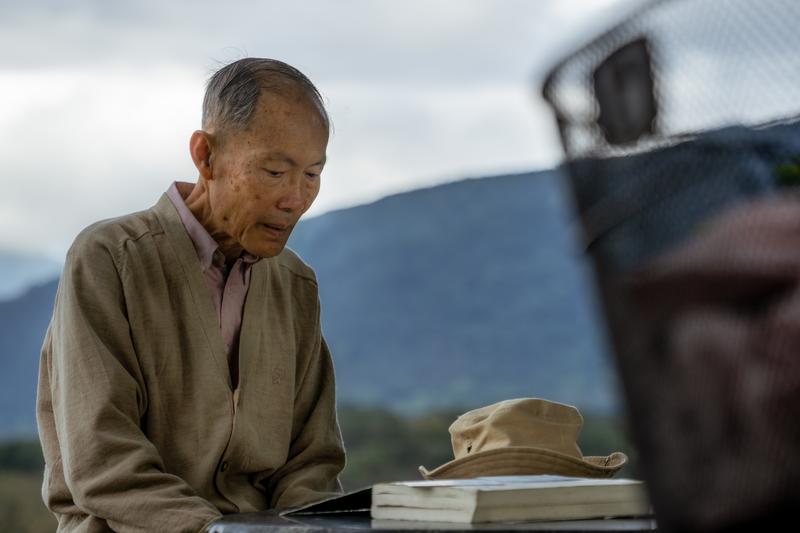 "At the time, I wondered how many people weighed reporting to the hospital against the penalty for not doing so," says Chou. "In the end, I think people choose to go as a matter of principle. If it were a choice between their personal safety versus fear of a penalty, most people would have chosen to live."
Chou was out on a lunch break when he got word from a nurse that the hospital was to be quarantined. He went home to check the WHO guidelines from the previous two weeks, which recommended that suspected cases undergo home quarantine for 10 days. He translated the article into Chinese and faxed it to the Taipei city government and to the media. After judging that the city government had made a dangerous error in not preparing any guidelines on how to execute a quarantine, he decided that he and his family would quarantine themselves at home.
"I know my husband's personality. He always insists on doing what is right, and doesn't compromise easily," says Mrs. Chou. But public opinion and government orders felt like a net slowly tightening for those who didn't comply with the hospital's orders.
"Our son was a medical student who quarantined with us at home, and missed his midterm exams as a result. He held his father's hand and said, 'I won't let you go! I'd rather you lose your medical license. I can raise the family.' Before he left to report to the hospital our son said to him, 'Dad, if you get so much as a cough, you have to call me right away!' He was so innocent and naive; even if he called, what could he do? But I couldn't say this to such a dutiful son."
An Anger Not Healed by Time
Though it's said that time heals all wounds, Mrs. Chou still finds herself in a mood from time to time. Events from the past feel as though they happened yesterday, and her emotions are difficult to contain.
"At the beginning of the year, I was chatting with a young person who had come back to Chishang to vote. His father was an officer in the Chishang Development Squadron (池上開發隊), so he knew some of the veterans in the village from his childhood and would still call them "uncle." In his father's time, there were cases where all the children in a village never came back from school. They were corralled by the KMT into boats and sent straight to Taiwan. Anyone who cried for their families on the way was put on a podium and executed in front of everyone, after which no one dared to cry again. Even after the squadron arrived at Chishang, if anyone expressed discontent too strongly, they would disappear after a few days... In those times, the two of us would have been made into ghosts very quickly! Ma Ying-jeou (馬英九) [Taipei mayor during the SARS epidemic] grew up in this kind of setting. He is the ruler, and we are the ruled. Those who don't follow orders are made an example of."
After the quarantine on Heping Hospital was lifted in 2003, there were no hospitals who were willing to hire Chou. Hoping to restore his reputation and career through legal avenues, he spent seven long years suing the city government, spending millions of NTD (tens of thousands of USD) in legal fees and bringing cases to the administrative court, civil court, criminal court, and even requested a constitutional interpretation by the Constitutional Court.
"After the Taipei High Administrative Court ruled in our favor, that he had not failed in his obligation as a doctor, a representative from the Taipei City government called us to see if we could each take a step back. I told them we had two conditions. The first was that the Ma Ying-jeou city government should hold a press conference to apologize to my husband. The second condition was compensation for all SARS victims. I told them that they didn't value the opinions of health specialists and tried to fight the disease using only their political authority. They hung up on us, and not long after, we were charged by the Taipei prosecutor's office with public endangerment," Mrs. Chou says. "If he was convicted in criminal court, he would have to go to jail. They tried to bury four others with him in that case as well. What kind of government is this? It's as if we're colonial subjects!"
In the end, Chou Ching-kai won his case in a high administrative court to have his reprimand struck down, the city ended up not suing him for criminal public endangerment, but he lost the other cases. In the eyes of Mrs. Chou, her husband was a whistleblower who used his disobedience to warn society of the government's mistake, and gave a voice to SARS victims in the courts.
"After the constitutional interpretation, the lawyer that helped us bring the case told us, 'you've fought the good fight, maybe now it's time to look for work,'" Mrs. Chou laughed bitterly.
But no matter what introductions he could get, he kept hitting roadblocks, as if he were poison that no one would touch. By chance, he found out that their downstairs neighbor's husband wanted to close his clinic in Chishang and return to the north. The next morning, husband and wife took the first train to Taitung. There were no seats left, so they laid out a newspaper to sit on the floor and headed for the east coast.
Eleven years have passed in a blink of the eye, and with the clinic already transferred to a new doctor, it is finally time for them to return to their home in Taipei.
Mrs. Chou's eyes glance over the decorations on the wall. "Isn't it like the scene from Doctor Zhivago? That kind of desolate beauty." Following her husband to Chishang, she turned the previously dim and cramped office into a bright and clean one. Now, on the eve of their departure, they can't bring the paintings and decorations on the walls. They will all remain in Chishang.
Chou is now 72 years old and is worn down from the years of hard work. Even so, he often still finds himself in the habit of going to bed early in order to open the clinic the next morning, forgetting that he was already retired. In his slow gait he walks around the clinic, looking over the place where he made his contributions to this village and spent much of his later years. He examines everything closely: the medicine room, the tables and chairs in the examination room, the cart fully arranged with medical equipment, the treatment platform in the back.
After a long silence, he says faintly, "this is all part of the past now."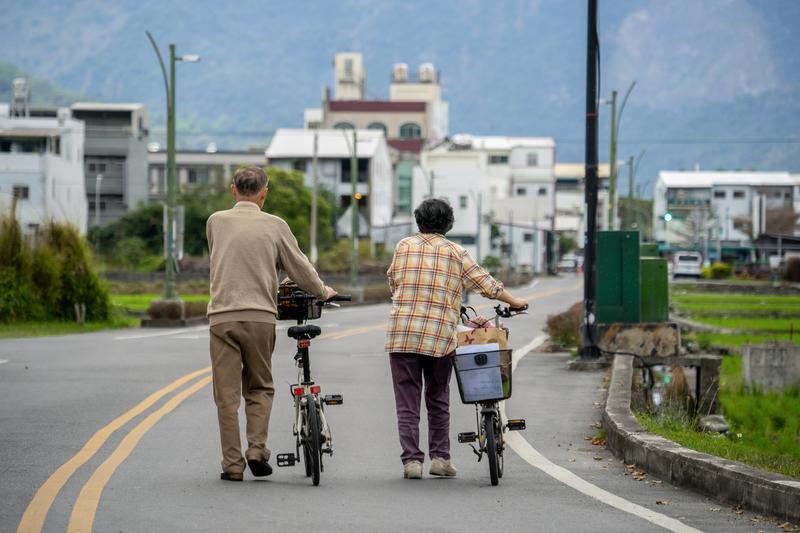 Part 2: The Doctor Who Took on a Mission
"I feel like she saved me," says Yang Chi-hsien (楊志賢), as he recalls the words that a nurse said to him through a glass divider in Ward B8, the intensive care unit where SARS patients were concentrated during the quarantine of the hospital.
Yang is director of psychiatry at the Taipei City Heping Hospital. 17 years after the SARS epidemic, he is still a psychiatrist there, working in the hospital's psychological rehabilitation center on the 10th floor, two floors above Ward B8 ((building B, floor 8).
After a laundry worker surnamed Liu caught the disease and was sent to Ward B8 on April 16th, the disease started to snowball within the ward. The first medical workers at Heping to die from SARS were nurse Chen Ching-chiu (陳靜秋) and doctor Lin Chung-wei (林重威) from Ward B8. Because they did not have a clear sense of the situation, they did not take precautions and became infected.
On April 26th, after three days of isolation, help from outside finally arrived. Academia Sinica researcher Ho Mei-shang (何美鄉) brought American CDC experts to help investigate and control the infection. However, the hospital had trouble finding doctors willing to take on the risk of entering the restricted area to guide the survey.
The chief of medicine finally asked Yang Chi-hsien. As a psychiatry specialist, he was unfamiliar with internal medicine, surgery, and infectious disease and was confused as to why he was asked. But when the chief told him that no one else would, he summoned up his courage and promised to do it.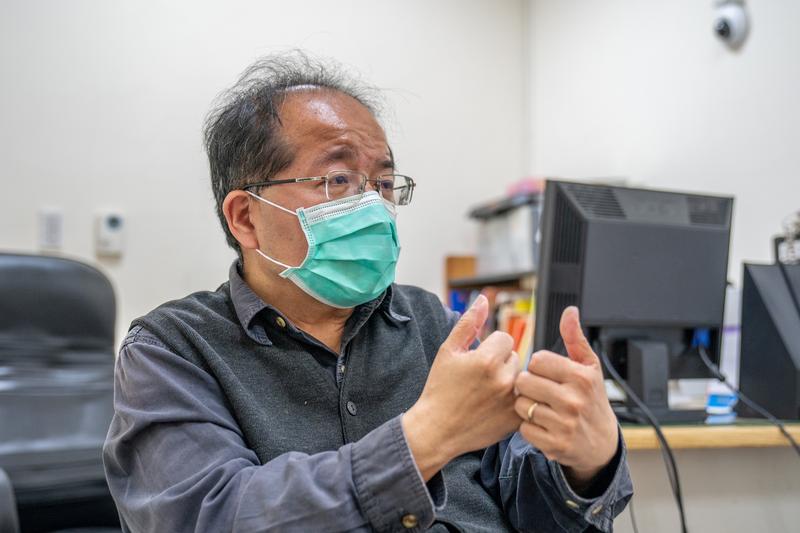 Words From Hell Evaporate His Internal Conflicts
"What a hell!" Yang vividly remembers the words uttered by John, the CDC expert, as he stepped into Heping Hospital. When John heard his guide was a psychiatrist, he turned to Yang and said "What? You're a psychiatrist! You have no other medical doctors?" But John bit his tongue, "forget it. We're already out of time."
When they arrived in Ward B8, where infections were the most severe, Yang introduced John to the nurses in the ward, and told them that experts from home and abroad were here to help.
Yang expected that these nurses, dispatched alone to the front lines with no support, would surely respond by releasing their fury, their feelings of helplessness and tales of challenges that they faced: they could not eat and wear protective equipment at the same time, coworkers were collapsing from exhaustion one by one, the public was suspicious that they weren't working hard enough for the patients, and some of their colleagues were unwilling to rotate shifts with them. Instead, a nurse said:
"Doctor Yang, we don't need help with anything. We're just happy that you came to visit us, because no one else was willing to come."
Up until then, Yang had been putting on a brave face, while in reality fear was constantly pulling at his heartstrings, questioning why he impulsively accepted the task. In awe at hearing that surprising response, his internal conflict instantly evaporated.
"Compared to those nurses, I should be ashamed. I suddenly felt a burst in energy, and the fear in my heart suddenly seemed to disappear. These nurses held the line in building B, holding SARS at bay and tending to the patients without regard for their own well-being. When I understood this, that there were people who would go to such lengths for others, it was like their confidence had rubbed off on me."
On the same day, a patient in building B hung himself in the bathroom, and the already low morale fell straight through the floor. The director of psychiatry at the time, Li Hui-min (李慧玟), was tasked with counseling the two nurses who had happened upon him, and Yang had to figure out how to inform the family members of his death.
"That man was here for SARS treatment, and his wife was keeping him company. Because of that, she was quarantined with the rest of us, and one morning she had a fever and was taken to the emergency room for screening. The guilt of having exposed her to the disease slowly built up inside of him, and he killed himself while waiting for the test results." "At the time, I recommended that we not tell his wife for the time being for fear that she would crumble mentally. We wanted to get her family in here, and have her children tell her. But for her children to come they would need special permission, as well as a guarantee that they could leave. Her husband died because he felt guilty for exposing her, which she might already feel some guilt over. If her children came and then became trapped, it could cause a domino effect."
When the daughter arrived at the hospital, Yang asked her to promise to her mother that even though her father had passed, that she would stay strong and take care of herself on the outside, waiting for the quarantine to lift. On her mother's part, she would promise to her daughter that she would also stay strong, that though her husband had passed she would continue to live and keep their daughter company for him.
I Witnessed All of Human Nature, but the Only Thing I Could Do Was Reflect on Myself
Compared to the SARS epidemic, the Taiwanese government's response to COVID-19 has been speedy and competent. They took control of the flow of information as much as they could by transparently keeping the public informed. By contrast, SARS was like a bomb that suddenly went off in Heping Hospital, and for those quarantined within, it was as if their lives had fallen apart. The daily life that they knew had suddenly vanished, and with no information nor help on its way it was like they had fallen into a bottomless pit.
When Yang Chi-hsien received notification of the quarantine, he had just finished his seeing his final outpatient of the morning. He hurried home to coordinate housework for his family while he was under quarantine and to give possible ways for them to reach him. After packing his clothes he flipped through his desk until some books by Nietzsche caught his eye, which he stuffed into his luggage. In the days that followed, these books would become his spiritual guides.
"In this absurd and meaningless life, people still bravely made decisions for themselves and put them into action. Even while we are sinking we can still find a new reference point by taking action, like feeling out for the bottom of the lake with our feet. In this way, one can continue to have some confidence in the possibility of life," Yang Chi-hsien emphasizes. "Nietzche said 'God is dead,' meaning that when people face an extreme situation and cannot hope for an external source of strength, whether via some kind of system or other people, then they can only rely on themselves. He also brings up the concept of 'will to power,' that is, if a person fully concentrates their willpower, then one can become a 'superman' who breaks through restrictive conditions in life. To be a 'superman' does not mean being better than others, but rather finding a way to face difficult situations and a way to break through."
In the chaos of a sealed-off hospital, a survival instinct emerged in people, as if they were stranded on a deserted island. Weaknesses of human nature began to appear. Some doctors blockaded themselves in a corner of the hospital, set up a home theater to watch DVDs, and did not allow anyone to approach. When medical staff in building B found time to rest in the designated area, their coworkers from building A told them to get out.
Even Yang Chi-hsien's wife, who had quarantined at home of her own accord, experienced this when her neighbors banded together to harass her over the telephone, causing her to lose sleep. It was as if the quarantined and their families had been branded with a poison symbol.
"In my experience under quarantine, I witnessed all of human nature, but the only thing I could do was reflect on myself. I feel like this is a choice, just like when I asked the nurse in Ward B8 if she needed help, her reply in that moment was also a choice. An 'existential' choice," says Yang Chi-hsien.
Part 3: The Doctor Who Wrote a Journal
It's been a long time, but the lights on Zhonghua Road and in Ximending are more brilliant and unfamiliar than I remember. The outside world is still filled with laughter and vitality, with not a thing out of place.
Turning back I see only two lonely buildings whose sickly white facades rise against the pitch black night sky, like the bones of a giant beast, like ruins.
--Diary of a SARS Quarantine in Heping Hospital (和平醫院SARS隔離日記), Day 10 (May 3rd, 2003).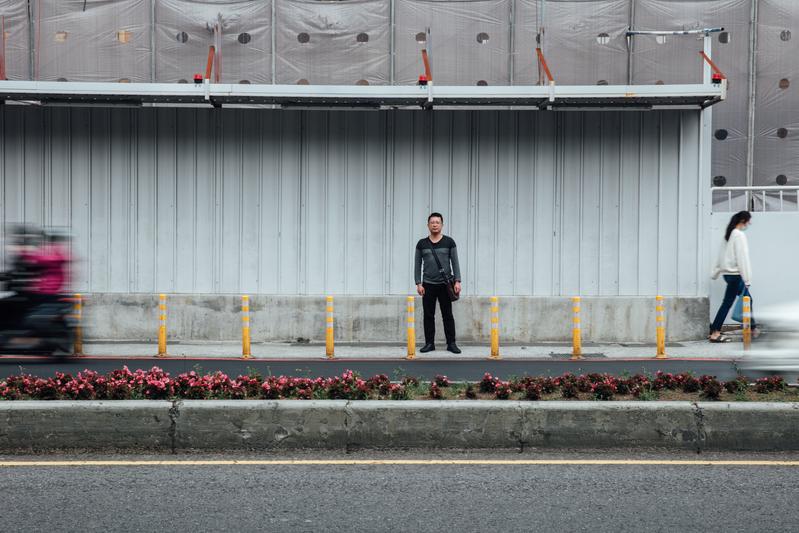 Pediatrician Lin Bing-hung (林秉鴻) has never really said goodbye to the "bones of the giant beast." For the past 17 years, there's been documentaries and anniversaries for both the SARS and MERS outbreaks, right up until this year's COVID-19 pandemic. Even though he no longer works in a large medical center but in a small clinic, he is still occasionally called upon during these times to relate his experience and for his opinion.
During SARS, he happened to be a first year resident at Heping Hospital. The journal he wrote while under quarantine provided an insider's account of the circumstances inside the sealed-off hospital.
Every day before going to bed, he would record his observations of the day on an i486 computer in Outlook Express in his dormitory room in Ward A6 (Building A, floor 6), and send them via email to all of his contacts.
Sparing no detail, he described how the situation in the hospital was rapidly intensifying while they were surrounded by unknowns (at the time, it was not even known that SARS was caused by a coronavirus). He described the haphazard bureaucracy, the primal fear, and the spontaneous reactions from hospital workers put in an impossible situation -- a doctor with SARS gasping for air over the phone, demanding the hospital rev up the engines to fight the endemic; pediatricians volunteering to send lunchboxes over to the sick ward, a job no one else wanted to do.
The journal was widely forwarded via e-mail and was also posted to BBS forums. Discussion surrounding it ripped out in an age before Facebook and social media. One could say that this was a kind of livestream of the SARS epidemic. Copies of the journal can still be found on the internet.
From Personal Responsibility to a Structural Question
According to a Ward A6 nurse who takes care of SARS patients, the patients in Ward B8 can't eat anything and are vomiting constantly. They were very weak and had splitting headaches. It was so bad that the painkillers and sleeping pills she gave them were hardly any use. The patients were struggling to survive; they felt helpless and on top of that still had to deal with discrimination from everyone else.
In the afternoon it occurred to me that the outside world is still operating as usual, and that the tennis class that I signed up for had already held a few lessons which I hadn't attended.
I called the tennis court and the boss blamed me for not cancelling in advance, and that without advance notice the classes could not be made up. When I told her that I was quarantined in Heping Hospital, she became frightened and curtly told me not to come back before hanging up.
I finally understood what my medical school professors meant by issues pertaining to the human rights of patients. The infected always feel like the people around them are looking down on them, and don't see them as normal people. Doctors use their authority to discriminate against them, or perhaps the treatment does harm to their psychological well-being.
Today, little by little, I am starting to understand.
-- From Diary of a SARS Quarantine in Heping Hospital (和平醫院SARS隔離日記), Day 8 (May 1st, 2003).
In the aftermath of the biggest public health disaster in modern Taiwanese history, public discussion focused on the deification of government officials, exposés by the bloodthirsty media, accusations from feuding politicians, and staid academic research. Lin Bing-rong's journal, on the other hand, provides an account of the human aspects of the epidemic.
Since his experience, Lin's perspective has shifted from assigning personal responsibility for the disaster to seeing a fundamental structural problem.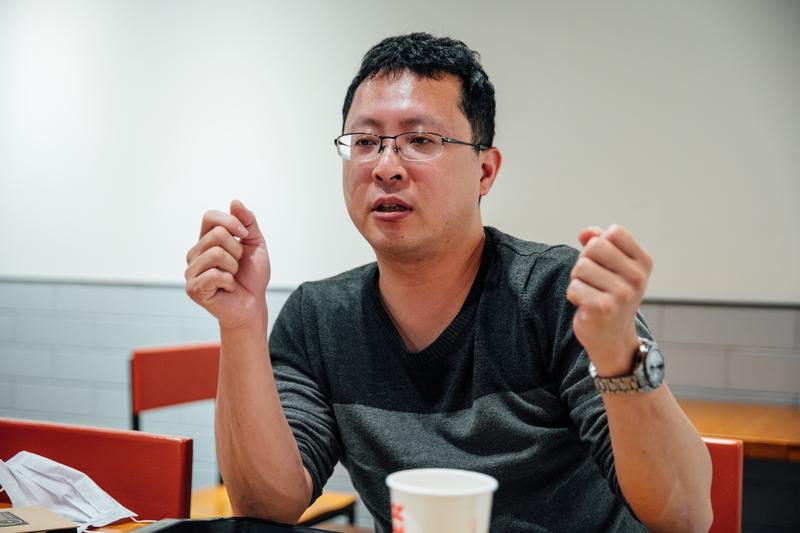 "In the beginning, I blamed three people: the director of infectious disease at the time Lin Rong-ti (林榮第), the chief of medicine Wu Kang-wen (吳康文) and Taipei Department of Health commissioner Chiu Shu-ti (邱淑媞). But as blame kept getting thrown around, I realized that there was a structural problem," said Lin Bing-hung.
"Why is it that the super spreader was a laundry worker for the hospital? Because that work was outsourced, and the hospital didn't think of these workers as their own, so they passed on clothing from potential SARS patients to them without any warnings or special instructions. Why did the hospital outsource laundry service? Because of challenges with operational costs. Why were there such challenges? Because the prices dictated by the national health insurance are too low, which forces hospitals to aim for hitting performance metrics to balance their finances. When our industry has been reduced to trying to hit metrics to survive, there's no reason to stop and think about how to deal with spread of infections within the hospital."
After the establishment of Taiwan's health insurance, the National Health Insurance Administration began managing funding for municipal hospitals and municipal funding for Heping Hospital decreased year by year, starting from Chen Shui-bian (陳水扁)'s tenure as mayor until Ma Ying-jeou when it essentially dropped to zero.
The year before SARS, the newly appointed chief of medicine Wu Kang-wen (吳康文) was under pressure to establish financial self-sufficiency, and introduced a hospital management model from the US called "fee-for-service" (駐診拆帳制). Under this system, doctors have a lower base salary but receive pay for each service or procedure administered. Under the incentives of this system, doctors tend to prescribe more drugs and examinations, and tend to ask patients to return for blood tests and to watch lectures, which has resulted in overcrowded hospitals.
After taking office, Wu reduced hospital manpower, and hired more contractors and temporary personnel, all in the name of reducing costs. Heping Hospital was the model of a "rejuvenated hospital" and posted the highest
liquidity ratio
a measure of the hospital's ability to pay off debt.
of all of Taipei's municipal hospitals. Perhaps not coincidentally, only a month later on April 24th, the hospital was quarantined during the SARS epidemic.
Lin Bing-hung has railed at unreasonable pricing from the country's health insurance administration for years, and says it creates an environment for hospitals to prioritize metrics and squeeze manpower. Not much has changed after SARS, and today the problem has only gotten worse, with hospitals outsourcing parking and cafeterias as a core part of their revenue strategies.
Who Decides Who to Sacrifice in the Trolley Problem?
"Isolation is, in itself, not wrong, just like in the trolley problem," says Lin Bing-hung.
Although much of his journal contains intense criticism of authorities, he still cannot deny that facing a new and unknown infectious disease is like staring down a speeding trolley. There is no time to stop and prepare to perfection, you have to make quick decisions.
"This was also the constitutional interpretation in Chou Ching-kai's case: that during health emergencies, the Constitution allows the government to put restrictions on personal freedoms, and so the trolley heads toward the track with fewer people. "
"After this, the Communicable Disease Control Act (傳染病防治法) was amended to become even more rigorous, giving the government even more authority to enforce laws. Personally, I interpret it as a kind of 'martial law act' which reasons that it is okay to sacrifice a minority in the name of public interest," says Lin.
But who was responsible for the suffering and death of those run over by the trolley?
"Every night there is a chance to change track, but every night the trolley just keeps speeding on. So, who is the killer? Not the tolley driver, but the majority standing on the other track. It's very cruel. On day one, why couldn't we have found 1,000 rooms around the city to isolate suspected cases in? Could it be that the government rejected the idea? Actually, it's because of the fear of the people. No one was willing to have potentially infected people near their homes, so in the end we had to obediently quarantine in the hospital. If only there were people who could provide those 1,000 rooms, we could have come out."
Lin Bin-hung punched out this ten day journal on his keyboard in hopes of clarifying the facts of the matter, not being content with twisted media reports and internal hospital flame wars. It is a reference point in resisting the tendency to forget, continuing to exist on the internet for anyone to see when they need to remember what happened.
But he is keenly aware that not everyone can continue to make noise like he is.
"I was in building A (where there were no infections), so I still have the ability to do this. Those in building B (where the infected were concentrated) may have some psychological obstacles to overcome. It's really too sad, there were a lot of people who never made it out," says Lin.
"I met an emergency room nurse, and though she recovered, she had lost her sense of taste and sense of smell. One time she was eating at home and started crying. She said to her mother, 'I can't taste anything anymore... I can't taste my food anymore, so could you maybe make it look a little prettier?'"
Lin fights back tears as he relates these stories of these voiceless victims who have yet to recover.
Part 4: The Appropriate Response to an Epidemic
From SARS to COVID-19, history seems to repeat itself. Blockades and isolation policies are being established in every corner of the world.
In the beginning of 2020, as the epidemic spread through China, Japan, South Korea, Iran, Italy and America, each country has instituted their own isolation policies, from home quarantine of individuals to the sealing off national borders.
The word "quarantine" originated in the Middle Ages, from an Italian city-state. 600 years later, it is still mankind's primary strategy in fighting emerging infectious diseases, to "substitute space for time."
According to a WHO specialist who visited China to observe their epidemic fighting methods, the controversial and iron-fisted policy of shutting down cities during early stages of the epidemic was truly effective in stopping its spread. Italy, the country with the second most confirmed cases and deaths, has followed suit.
Mental Health in the Time of Epidemics
The risk of catching an illness, the pressure of taking care of others, as well as the lifestyle changes that result from living under isolation, can create a psychological strain on people which has already been noticed by scholars around the world.
A research team at King's College London recently published a review in The Lancet of 24 cases of infectious disease over the past 10 years. They found that the experience of isolation can have wide-ranging psychological effects, including post-traumatic stress disorder, depression, anger issues, substance abuse, and other effects. Those with underlying mental illness or workers on the front lines can suffer from serious consequences.
University of Macau Faculty of Health Sciences professor Xiang Yu-Tao (項玉濤) published a comment in The Lancet Psychiatry, calling for the urgent development of mental health care for COVID-19 patients.
According to Xiang and his team, patients who have suspected or confirmed cases can feel helpless, alone, and angry due to anxiety related to the virus. In extreme cases, they may even refuse medical care, exhibit violence or attempt suicide. Symptoms such as fever, lack of oxygen, and coughing can also contribute to the above mental symptoms. Further, people who are quarantined can exhibit nervousness, fear and anxiety related to discrimination, which can lead to feelings of guilt.
"Governments need to provide accurate information rapidly in order to reduce panic and feelings of isolation. To reduce the probability of mental crises, local and national governments need to establish interdisciplinary psychological support teams."
With no end in sight for the COVID-19 pandemic, the mental health of those affected by the SARS epidemic has become important empirical research.
A 2006 study of 549 medical workers in Beijing Hospital who had worked on treating SARS patients found that 10 percent of them exhibited post-traumatic stress disorder.
A study of 233 SARS survivors in Hong Kong showed that 40 percent of them exhibited clear signs of mental illness one year later, such as post-traumatic stress disorder, depression, or obsessive-compulsive disorder.
In Toronto, researchers examined 129 patients who were put in isolation; after their release, 28.9 percent experienced post-traumatic stress disorder, and 31.2 percent experienced depression.
Testing the Balance Between Public Health and Personal Freedom
Contrary to the WHO's optimistic appraisal of China's handling of COVID-19, medical history researchers have recently warned against the use of government power in the name of pandemic prevention. In such times, the whims of authority are often exerted on the most vulnerable communities. For example, Chinese people (bubonic plague) and Eastern European Jews (typhoid and cholera) have all been scapegoats for mass panic when pandemics erupted in the 19th century.
Invisible germs not only threaten our bodies, but also test the relationship between public health and personal freedom, a topic for which there is always room for discussion. In 2011, Taiwan's Supreme Court issued a response (Constitutional Interpretation No. 690) to the Chou Ching-Kai case, which affirmed the administrative authority of the state to enforce isolation during epidemics, and does violate constitutional protections of personal freedom.
Current President of the Judicial Yuan Hsu Tzong-li (許宗力) wrote a dissenting opinion where he argued for constant vigilance against overreach of government power:
Whether or not they are specialists, leaders can abuse their authority. This was certainly a key point that we considered. There are many historical examples of authorities using mental illness as a justification for purging political dissidents. Aside from the infamous example of such abuses under the KGB in the former Soviet Union, today in the 21st century, in different corners of the world and in different cultures, there are still disgraceful examples of homosexuals or religious minorities who are labelled as mentally ill and dealt with accordingly. These cases all have something in common: experts and specialists participate in the determination of whether a person is mentally ill. Perhaps the reader feels that fighting epidemics and mental illness are different, and that the analogy is not valid. But as there are cases of dissidents persecuted in the name of treating mental illness, this judge cannot help but be wary of compulsory isolation decisions during times of infectious disease. Moreover, there are documented examples such as the case of Typhoid Mary in America in the previous century. Because she was suspected as the originator of typhoid, she spent the rest of her life in forced isolated custody, a total of 26 years. Her case was never heard in a court of law. Scholars believe that the discriminatory treatment that she received is not unrelated to her background as an Irish immigrant. Even if we have confidence in the persistence of Taiwan's free and democratic rule of law, as well as the tolerance and attention to human rights found in Taiwanese people; even if we feel that what we worry about is no longer possible in our modern Taiwan, we still cannot take that risk. The principle of judicial retention (法官保留, meaning certain actions by the government require the approval of a judge) intends to prevent abuse of authority to the greatest extent possible, even if such cases constitute a fraction as small as one in a million.
Quarantined, but Not Sacrificed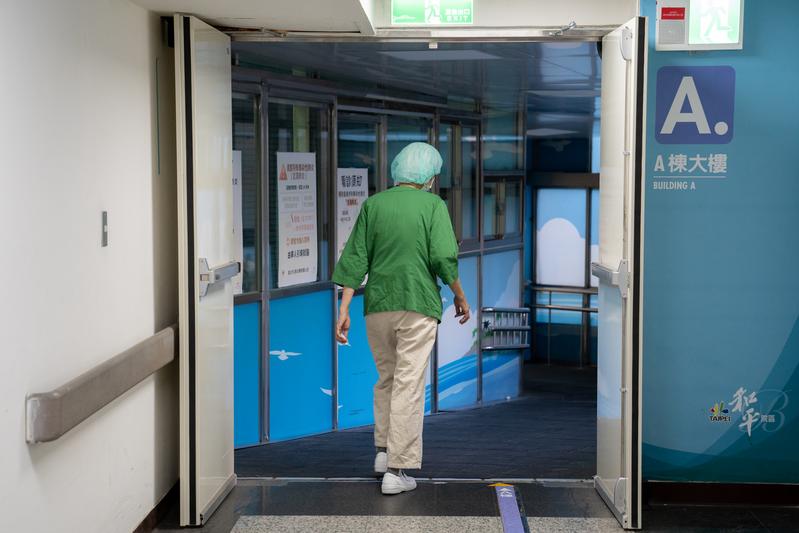 Taiwan clearly learned a lesson from SARS on how to find a balance between public health and personal freedom.
"This time, Taiwan's methods for dealing with the pandemic have received praise at home and abroad. For the time being it appears to be the best response amongst all countries," says Dr. Shih Fu-yuan (石富元), a resident physician at National Taiwan University Hospital's emergency room.
"I think the key was the leaders in charge of pandemic prevention were not all medical professionals. Vice President Chen Chien-jen (陳建仁) is an epidemiologist and Minister of Health and Welfare Chen Shih-chung (陳時中) was a dentist, so there wasn't as much tunnel vision and instead they took a more comprehensive and objective view of the situation. For example, matters regarding the supply of face masks and border controls cannot be solved by an infectious diseases professor alone."
Shih had previously visited the United States to receive training in "disaster management and disaster medicine," and for a long time has been devoted to putting it in practice, as well as public outreach.
When SARS spread to the NTU Hospital emergency room 17 years ago, Shih had to self-quarantine at home for 10 days. Since then, he has had difficulty letting go of the misfortune caused by the epidemic. During his research in the U.S. with his advisor Donna Barbisch, a retired one-star general with expertise in disaster contingency, they used Heping Hospital as a negative case study in an article on the use of quarantine.
"During our medical training, it was clear how to handle 'isolation' (isolation of confirmed cases), but on the other hand 'quarantine' (isolation of suspected cases) was very difficult, because during the incubation period of infectious diseases many patients do not show symptoms," said Shih.
"On top of that, in every society there is a deep fear of disease, and the government is endowed with great authority to fight it. Taiwan's Communicable Disease Control Act says if the government wants you to quarantine, then you quarantine, and you don't even have a chance to appeal. This kind of legal 'blank check' can become an exhibit for effective government if used well, but if used poorly it can result in tragedy. T he quarantine of Heping Hospital concentrated the sick and the healthy in one place. A lot of people caught the illness due to this mistaken policy."
During their research, Barbisch and Shih designed a decision tree using contact history, presence of symptoms, and possibility of asymptomatic exposure as branch points, and rigorously filtered out the special cases which warrant quarantine. They also bring up a theoretical structure for measuring surge capacity for sudden emergencies called the 3S (staff, stuff, and structure) model: staff refers to sufficient trained manpower, stuff means materials (like masks and respirators), and structure is space and operational flows, and includes the ability to requisition property for isolating patients.
In the article, they stressed that governments should not put on displays of bold action in response to emergencies that result in unnecessarily harsh measures. Before depriving citizens of their personal freedoms, they need to consider empirical evidence and weigh the risks and benefits between mass quarantine versus lesser but more effective strategies.
One such strategy is social distancing, which includes suspension of large-scale gatherings, travel restrictions, home isolation and monitoring, and maintaining physical distance from others. Currently, Taiwan and Western countries are gradually incorporating these measures into life under quarantine.
"To be blunt, there was no problem with the goal of quarantining Heping Hospital, which was to prevent the spread of the epidemic. The problem is they didn't consider how things would unfold, and ended up using oil to put out a fire. It's hard to believe that in a country of faith and a modern society, people were seen as garbage to be thrown into the bin," says Shih.
"The solution to the problem is not inside the hospital, but outside of it. To quarantine is to protect people, but you also can't sacrifice people. You need resources, funding, space, and manpower. It's a shame that those inside paid with their lives."
To read the Chinese version, please click: 重返和平──SARS隔離黑洞中難以告別的記憶 .
Part 1: The Doctor Who Disobeyed
Part 2: The Doctor Who Took on a Mission
Part 3: The Doctor Who Wrote a Journal
Part 4: The Appropriate Response to an Epidemic
用行動支持報導者
獨立的精神,是自由思想的條件。獨立的媒體,才能守護公共領域,讓自由的討論和真相浮現。
在艱困的媒體環境,《報導者》堅持以非營利組織的模式投入公共領域的調查與深度報導。我們透過讀者的贊助支持來營運,不仰賴商業廣告置入,在獨立自主的前提下,穿梭在各項重要公共議題中。
你的支持能幫助《報導者》持續追蹤國內外新聞事件的真相,邀請你加入 3 種支持方案,和我們一起推動這場媒體小革命。