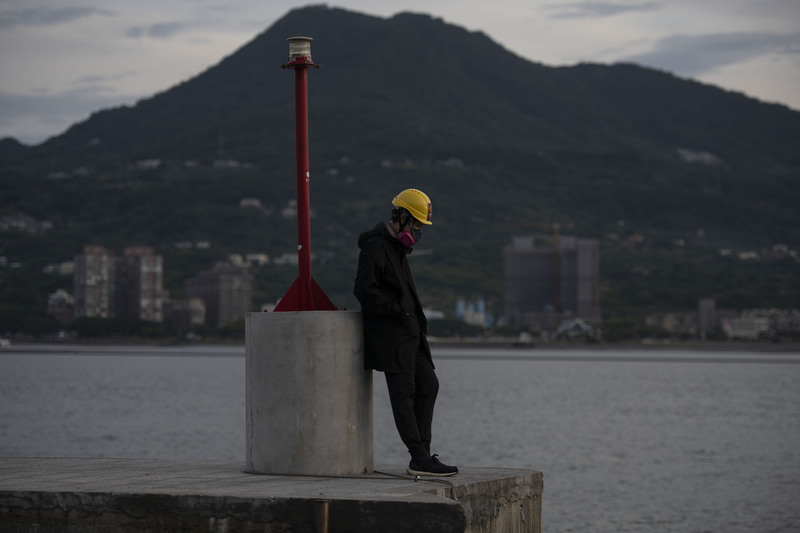 July 1, 2021 is the 2nd anniversary of the occupation of the Legislative Council in Hong Kong's Anti-Extradition Bill movement, and the 1st anniversary of Taiwan's investment of national resources in providing humanitarian aid to Hongkongers in exile. According to civil society organizations, Taiwan was not only the first to assist Hongkongers during the early stages of the movement, but could quite potentially be the place harbouring the most Hong Kong political refugees on earth. Two years after Taiwan's assistance of Hong Kong, official relations between the two have seemingly ceased as the political situation in Hong Kong continues to deteriorate. Amid geopolitical uncertainties, how can Taiwan continue to help Hongkongers?
To domestic college students in Taiwan, July marks the end of the academic year and the coming summer vacation. But for Ka-fai (alias), a student whose identity as a Hongkonger in exile is hidden by his student status, the summer month represents a moment of danger and instability.
Traversing his Taiwanese university campus, Ka-fai looks like any other college student. Little do his classmates know that two years ago, on July 1, he participated in the occupation of LegCo, one of the events during the Anti-ELAB movement that drew a lot of international attention. This was the first social movement in Hong Kong history where the legislature was occupied. Ka-fai entered alongside his companions, and came out in one piece. Several months later, he entered Hong Kong Polytechnic University (hereafter PolyU) to support the protestors. He was fortunate enough to escape during the siege, but thereafter began to be followed by unknown persons, as his comrades-in-arms were arrested one by one.
Two years passed. Ka-fai came to Taiwan with the aid of Taiwanese civil organizations and the Mainland Affairs Council (陸委會). He began studying at a Taiwanese university, obtaining student visa status. Though on the surface, he has shed the identity of a refugee, every change to the Taiwan-Hong Kong situation puts him on edge.
"Taiwan and Hong Kong are in the same boat." Ka-fai knows this full well:
"We live on the margins of the same empire."
Coinciding with the centennial of the founding of the Chinese Communist Party, July 2021 brought a geopolitical dark cloud. In May and June, the Taiwan Affairs Office of the State Council (國務院臺灣事務辦公室; hereafter the TAO) and the Hong Kong government had excoriated Taiwan for interfering with Hong Kong affairs many times. In particular, they had called out the Taiwan-Hong Kong Services and Exchanges Office (台港服務交流辦公室) under the Mainland Affairs Council (陸委會; hereafter the MAC Exchanges Office), stating that their support of Hong Kong was "butting into Hong Kong affairs, and supporting political protection for forces of black violence". The Hong Kong Economic and Cultural Office in Taipei emptied its premises, closing its doors on May 18. With the forced withdrawal of the Taipei Economic and Cultural Office in Hong Kong, all official communication between the two places had been all but severed. Singled out by both the HK government and the TAO, the MAC Exchanges Office was established at the promulgation of Hong Kong's National Security Law (NSL) in 2020, marking the beginning of Taiwan's investment of national resources in humanitarian aid for Hongkongers. One year out, as of June 28, 130 people have been arrested in Hong Kong under the NSL, including the 7 writers and executives from Apple Daily who were arrested one after another in June. Over 10,000 have been arrested because of the Anti-ELAB movement, with 40% of them students.
Chiang Min-yen (江旻諺), researcher for the Economic Democracy Union (經濟民主連合智庫; hereafter EDU) and member of the editorial committee for diasporic Hongkonger magazine Flow HK (如水), asserted that according to his personal online observations, Taiwan has accepted to date the largest number of Hong Kong political refugees on earth. Statistics show that in the past two years, over 70,000 have left Hong Kong, with 20,000 of them choosing Taiwan.
Ka-fai and many other Hongkongers in Taiwan were concerned that the instability in Taiwan-Hong Kong relations might have been caused by Taiwan's aid for himself and his comrades. Another Hongkonger in exile, Ah Fung (alias), expressed concern that with the growing tension across the Taiwan Strait, Hongkongers in exile like him could be used as ammunition by Beijing to attack Taiwan. Furthermore, with the uncertain future of Taiwan-Hong Kong relations, will Taiwan continue to assist Hong Kong?
On the second anniversary of the Anti-ELAB movement, The Reporter interviewed many Hongkongers in exile, organizations for Hongkongers in Taiwan, Taiwanese civil organizations involved in the support for Hongkongers, as well as academics and current and former officials working on Hong Kong and Macau Affairs under the Mainland Affairs Council. We attempt to clarify four key questions in the face of a changing future for Hong Kong-Taiwan relations:
As Taiwan-Hong Kong relations deteriorate, what are the roles of the Anti-ELAB movement and Taiwan's support action for Hong Kong therein?
How did Taiwan become the world's largest haven for Hong Kong political refugees?
Two years into Taiwan's support for Hong Kong, what progress has been made, and what restrictions and bottlenecks remain ahead?
How should Taiwan face the new batch of Hongkongers in exile who might arrive in the future? How does it see those who have already sought refuge in Taiwan?
The Anti-elab Movement and Taiwanese Aid for Hong Kong Pushing Beijing's Hot Buttons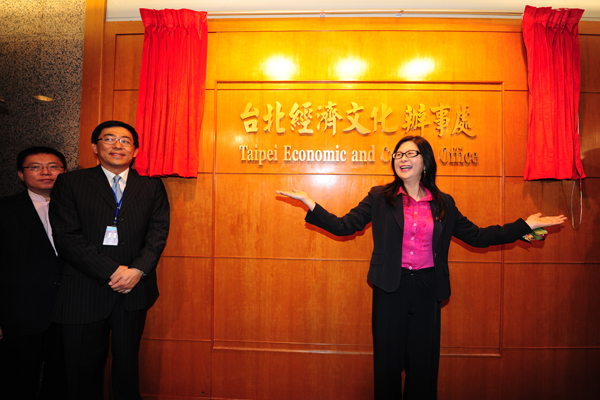 On June 20, 7 staff members from the Taipei Economic and Cultural Office in Admiralty, Hong Kong, returned to Taiwan due to the expiry of their visas. This came about after the Hong Kong government's decision in July 2018 requiring Taiwanese personnel in Hong Kong to sign a "One China Agreement" (一中承諾書) or else have their applications for new or renewed work permit denied. At this point, the official organization representing Taiwan in Hong Kong encountered an even stickier situation than its semi-official predecessor, the Chung Hwa Travel Service (中華旅行社), did during the British colonial era. Only one civil servant, Ni Po-chia (倪伯嘉), representative of the Ministry of Finance (經濟部) in Hong Kong, remained, and his visa expired at the end of July. He has since returned to Taiwan, with the operations of the TECO now maintained by Hongkonger employees. The MAC, the HK government, and the TAO each have their own take on the cause of the situation. Taiwan's support role for Hong Kong is at the centre of the discussion. The MAC specially held a press conference on June 21, saying that "vocalizing support for the democracy and freedom of Hongkongers should not constitute an excuse for political pressure against Taiwan." They declared that firstly, Taiwan's support of Hong Kong is an imperative shared by any democratic country, and secondly, that it was mandated by the Laws and Regulations Governing Hong Kong and Macau Affairs (港澳關係條例), with no interference in Hong Kong internal affairs to speak of.
The taking of this stance was a response to the HK government's declaration after the closing of the Hong Kong Economic, Trade, and Cultural Office (HKETCO) on May 21. That day, they announced they would temporarily close the HKETCO located in Taipei's Xinyi District, under the premise that "Taipei has many times brazenly interfered in Hong Kong affairs." They cited as the reason for their action Taiwan's release of the "Hong Kong support scheme" (援港專案) and its establishment of the MAC Exchanges Office, both of which "offered support to the violent protestors and those who seek to destroy Hong Kong's stability and prosperity." Up until June 20 and 21, the TAO in Beijing released two statements in support of the HK government's actions.
Beijing Wolf Warrior Diplomacy Behind Taiwan and Hong Kong Trading Blows
In retrospect of the process of Taiwan's aid for Hong Kong, Taiwanese civil society organizations had been receiving incessant calls for aid from Hong Kong protestors as early as June or July of 2019,  the early phase of the Anti-ELAB movement. Lesser known was that though Taiwan did not impose sanctions on Hong Kong as some prominent Western nations did, they were the first in the world to offer humanitarian aid for Hongkongers. On August 12, 2019, a mere two months after the movement began, then-Spokesperson for the Democratic Progressive Party, Wen Lii (李問), following the direction of President Tsai, expressed support for individual Hongkonger cases in the form of humanitarian aid.
Vice Chair of the Taiwan Association for Human Rights (TAHR), Wang Hsi (王曦), stated that Hongkongers' need for humanitarian aid has been unrelenting over the past two years. Even after Taiwan's borders closed due to the pandemic, Hongkongers continued to come with inquiries. Organizations such as the TAHR, the EDU, and the Civil Foundation for Judicial Reform (民間司法改革基金會; CFJR) formed a network for support from civil society. From 2019 to July 2020, they contributed to the initial stage of resettling  Hongkongers in exile in Taiwan. On June 18, 2020, the MAC announced the Hongkonger Humanitarian Aid and Concern Action Plan (香港人道援助關懷行動專案), with the MAC Exchanges Office officially opening on July 1. It took on all cases of Hongkongers in exile that civil society organizations had been working on, initiating the second stage of Taiwan's support for Hong Kong.
As the second stage of assistance marked its first anniversary, the official relations between Taiwan and Hong Kong had worsened to their current point. According to the HK government and the TAO, Taiwan's support of Hong Kong Anti-ELAB movement participants has violated Beijing's bottom line. This seems to be the direct cause of the deterioration in relations. However, Weng Sung-jan (翁松燃), a scholar who participated in drafting the Laws and Regulations Governing HK and Macau Affairs in the 1990s, stated that Beijing's Wolf Warrior Diplomacy, manipulating the relationship between Hong Kong and Taiwan, is what contributed to the current situation. Dr. Weng had previously taught at the Chinese University of Hong Kong, served as a part-time advisor for the British colonial administration and the HKSAR government's Central Policy Group, and as a committee member on the MAC's Hong Kong and Macau Research Group. Many of his works have indicated that long before the Anti-ELAB movement and Taiwan's humanitarian aid to Hongkongers, Beijing had more than once interfered with Hong Kong and Taiwan's mutual consular relations. This included an incident in 1995, where John Ni Chang-yi (黎昌意), then Manager of the Chung Hwa Travel Service and Taiwan's representative in Hong Kong, faced an ordered departure from the city within a given time because of the pressure on the British colonial administration from Beijing. He responded to The Reporter's inquiries in writing, pointing out the tension across the Taiwan Strait, as well as the drastic changes in Hong Kong, contributed to a worrisome state of affairs.
Geographic, Cultural, and Political Proximity Makes Taiwan the Biggest Host for Hong Kong Political Refugees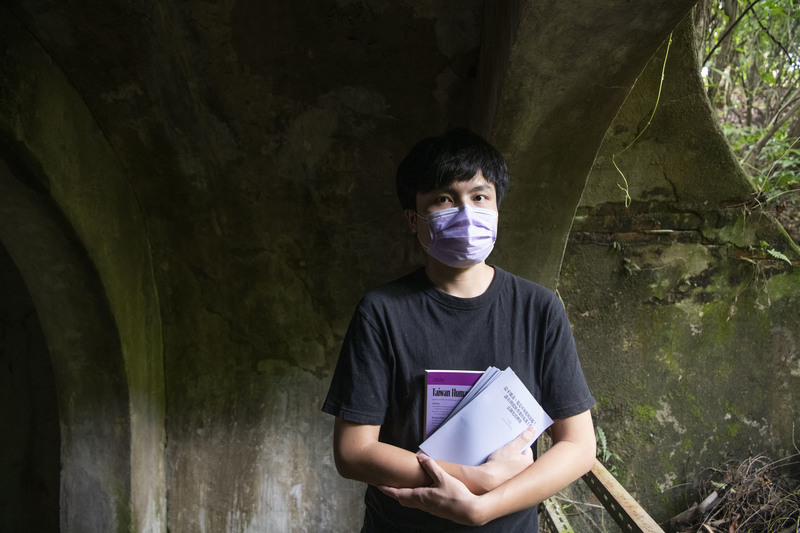 Chiang Min-yen, researcher for the EDU, surmised that Taiwan up to the present has taken in the greatest number of Hong Kong political refugees of any country. Many Taiwanese civil society organizations see themselves as the earliest overseas entities that extended aid to Hongkongers in exile. Two escape attempts by Hong Kong protestors that made international waves were both directly related to Taiwan, including the Kaohsiung Five case (高雄5人案) and the Twelve Hongkongers case (12港人案). On July 18, 2020, five Hongkongers escaped to Taiwan via Pratas Island, and were detained and resettled after reaching shore in Kaohsiung. In January 2021, it was confirmed that they had reached the United States for political asylum. On August 23, 2020, twelve Hongkongers departed from Hong Kong shores, originally intending to escape to Taiwan, before being intercepted by the Chinese coast guard in the South China Sea. While being held in custody in Shenzhen, they received sentences of seven months to three years. Also an editorial board member for diasporic Hongkonger magazine Flow HK, Chiang maintained contact with exiled Hongkongers in various countries. He analyzed that, "Geographically and culturally, Taiwan is certainly close to Hong Kong so the anticipation of asylum came to the forefront for everyone." Additionally, "many people came over because of the government's swift response." He also stated that in terms of emotional connection, many Hongkongers in exile feel that Taiwan is the foreign country closest to their hearts. "Most people have probably visited Taiwan, or know some Taiwanese who care about Hong Kong, so Taiwan became a nodal point for everyone overseas."
"When everyone can no longer return to Hong Kong, Taiwan becomes a place where everyone can come back to."
As for Taiwanese society, "Hong Kong being oppressed by China hits very close to home," he stated. Starting in 2019, the MAC conducted multiple opinion polls among the Taiwanese public, with results showing that over 60% of the Taiwanese public supported the Taiwanese government supporting democracy and freedom in Hong Kong. In the most recent opinion polls in March 2021, this level of support surpassed 75%.
Furthermore, as polls conducted by the Institute of Sociology at Academia Sinica show, in December 2020, the proportion of the Taiwanese public who supported the Hong Kong protests stood at 66.9%, higher than the 59.29% of December 2019. Though the street protests of the Anti-ELAB movement have all but ended, the support of the Taiwanese public for the Hong Kong protests has increased rather than decreased. In addition, in a poll by Academia Sinica, almost half of the Taiwanese public support the provision of political asylum for Hong Kong protestors. Support from the public is high, aid from civil society organizations came quickly, and the government signalled its will for humanitarian aid at an early stage. Multiple factors led Hong Kong protestors to believe in and rely on Taiwan.
For the Young and Exiled, Actual Options Are Limited
There are also practical reasons. Wang Hsi, Vice Secretary for the TAHR, has revealed that many Hongkongers who fleed to Taiwan have limited financial resources. A lot of those in exile are young people, some of whom have not yet reached adulthood. The cost of living in Taiwan is low compared to other countries, and it is closer to Hong Kong in language and culture. Thus, many young protestors who, without better capital conditions and have limited choices, will choose to come to Taiwan. For example, Hongkonger in exile Ah Fung was a blue-collar labourer in Hong Kong with limited English proficiency and minimal savings. He began participating in social movements starting with the Umbrella Movement in 2014. During the Anti-ELAB protests in 2019, because his participation was exposed, he was arrested at his home once by the Hong Kong police. Compared to Western countries where a completely different language is used, he felt that in Taiwan, at least Chinese is the medium of communication, and everyone used traditional characters, making adaptation easier. "Taiwan is the place most suited to me. I don't have much room to choose, and not much to consider." After passing the screenings, he and another Hongkonger in exile Ka-fai both received basic subsidies for day-to-day living. When facing issues such as getting a cell phone number or renting a house without an Alien Resident Certificate (ARC), they were assisted by public and private organizations. Ka-fai said that when he first arrived in Taiwan, it provided him with "very minute but very important help". For example, when he applied for schools, the administration was unclear regarding his situation, and asked that he have his degree notarized in Hong Kong. It was Taiwanese civil society organizations who helped him find the right department to explain the situation to the school. The cold currents in the winter can be chilly; many Hongkongers donated clothes to Taiwanese organizations, helping Ka-fai keep warm.
Humanitarian Aid Two Years Out: Progress or Bottlenecks?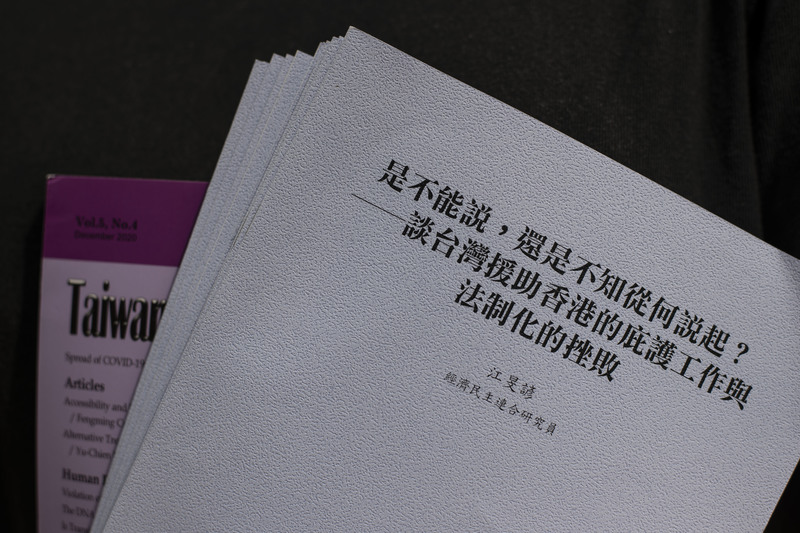 The first stage of assistance came from civil society; the baton was passed to the government in the second stage. Two years of Taiwanese support for Hong Kong has led to the development of a set of widely-accepted procedures. According to The Reporter's interviews of members of civil society who supported Hong Kong, after the establishment of the MAC Exchanges Office in July of 2020, Hongkongers in exile will be offered assistance to receive residency in Taiwan through two methods: enrollment or employment. According to Article 18 of the Laws and Regulations Regarding Hong Kong and Macau Affairs as well as Article 25 of the Enforcement Rules thereof, Hongkongers whose safety or freedom face immediate danger because of political factors should apply to a special scheme of assistance offered by the Executive Yuan. In the recent two years, this scheme has been the Hongkonger Humanitarian Aid and Concern Action Plan (香港人道援助關懷行動專案) promulgated in 2020. Under the current scheme, if exiled Hongkongers choose enrollment after they have passed the special screening, their resettlement will follow the trajectory of a Hongkonger with student status who seeks employment after graduation in Taiwan. As defined by Article 16 and 29 of the Regulations Governing Permits for Hong Kong and Macao Residents Entering the Taiwan Area and Setting up Residence or Registered Permanent Residence in R.O.C (香港澳門居民進入台灣地區及居留定居許可辦法), as well as Article 46 of the Employment Service Act (就業服務法), if Hongkonger students wish to reside in Taiwan after graduation, they must find an employer whose revenue exceeds $10 million NTD or work with international non-governmental organizations. They must also reside in Taiwan continuously for five years and achieve an income double the minimum wage. [3] If the exiled Hongkonger passes the special screening but is for various reasons unable to enroll, the MAC Exchange Office recommends and assists them in employment. Though they will not yet have received their ARC, the Exchanges Office can exempt them from certain necessary conditions for employment, allowing employers to legally hire them. However, these special exceptions require exiled Hongkongers to explain the situation to their employer themselves--why will they be eligible for legal employment with only a visitor but not resident status? The employer will have doubts. If they can secure a job and apply for an employment ARC with the help of the employer, the MAC Exchanges Office will regularly follow up and offer solicitude. However, according to current Taiwanese law, it is near impossible for Hongkongers who directly assume residence through employment to achieve permanent residence or obtain a Taiwanese passport. If their work status is disrupted, they may experience ordered departure within a certain date, meaning they cannot stay in Taiwan long-term. Ah Fung and Ka-fai are both exiled Hongkongers who passed the special screening. Where they differ is that Ka-fai chose enrollment, while Ah Fung, due to his blue-collar class background, did not have the educational qualifications to apply for university, leaving employment his only option. With a student status, Ka-fai can assume part-time employment, but work-study limits him to working 20 hours per week, making it difficult for him to make enough for his tuition. As for Ah Fung, the difficulty of explaining his exiled status to employers made him unable to find work, thus unable to receive an ARC. He said,
"We really hope to stand on our own feet instead of living off the resources of Taiwanese society."
Chiang revealed that the MAC Exchanges Office does not currently grant administrative decisions to Hongkongers on paper. This paperwork refers to "the government documentation which clearly states that you have passed the special screening". Because such documentation currently takes the form of verbal assent from the government, most employers will be very confused as to what procedure to take to employ an exiled Hongkonger without an ARC. This increases the difficulty of their job hunt. "At this point, even if the Office tells them they've passed the screening, they don't dare to go out and find work, or can only rely on the manpower of the Office to help them communicate and explain their situation to the employer." Also, under the current scheme, even if exiled Hongkongers secure employment and receive work residency status, there is no legal avenue for them to receive a Taiwanese identity card. "Because there is no recognition of refugee status in Taiwan (Taiwan has no "refugee law"), people marked as politically at risk by the government still face great difficulties. Those who take work residency have no way to receive an identity card in Taiwan, no way to settle down here," said Chiang.
Underlying these minute problems is a more fundamental issue: though, in the initial stages, the MAC Exchanges Office offered aid and guidance to exiled Hongkongers in the format of a special screening scheme, in the end, they did not go through with official recognition of their status as political refugees. Instead, they led them down the path of a regular immigration process for Hongkongers. Many organizations, including the TAHR and the EDU, believe that the current asylum process takes this form because the detailed provisions of Article 18 of the Laws and Regulations Regarding Hong Kong and Macau Affairs stipulate that [Hongkongers] "shall report to the Executive Yuan . . . for its special handling." How this handling should be processed is entirely left up to administrative procedures instead of a concrete, legalized process. In 2020, civil organizations proposed a draft amendment of the detailed implementation to Article 18, including a suggestion for administrative decisions to be given on paper. The most fundamental clause is the Civil Society Detailed Implementation Draft Amendment. It suggests, "Those for whom, because of specified political opinions, there is concrete fact to recognize that returning to Hong Kong or Macau might constitute tangible danger of receiving persecution to life, person, or personal freedom, should be given right to residence under Subparagraph 11, Article 16 of the Regulations Governing Permits for Hong Kong and Macao Residents Entering the Taiwan Area and Setting up Residence or Registered Permanent Residence in R.O.C after a report from the Mainland Affairs Council is ratified by the Executive Yuan." According to this legal stipulation, those Hongkongers who reside in Taiwan due to political factors originally should be allowed to apply to settle in Taiwan after two consecutive years of residence and 270 days or more per year of staying in Taiwan.
The most fundamental difference between the current process for asylum for Hongkongers and the one advocated by civil society is the explicit statement of exiled Hongkongers' status as political refugees. With the official acknowledgement of their refugee status, they would receive Taiwanese residency and the right to settle more quickly than regular methods of immigration such as enrollment and employment.
No Amendment, No 'Political Refugees': Taiwan's Biggest Quagmire
One year after the draft was proposed, however, the government has made no amendment. Lo Ping-cheng (羅秉成), Councillor and Speaker for the Executive Yuan, explained to The Reporter regarding the government's reasoning: "The 'Laws Governing Relations with Hong Kong and Macau' are rather all-encompassing; the benefit of this is its flexibility. Under this flexibility we have enough legal resources to address this scheme." Besides, he also believes that in the application of this scheme, "there is no particular point of hindrance. Perhaps there's no way to do a perfect job, but it is possible to provide basic assistance." He said, if there are indeed things worthy of attention, the necessity to amend could be evaluated on a rolling basis. As to the problems pointed out by civil society organizations regarding exiled Hongkongers' ineligibility to settle in Taiwan under work residency, he responded that the relevant offices were evaluating the policies regarding temporary and permanent residency for Hong Kong and Macau residents. If they are designated professionals, they could receive permanent residence in Taiwan through the amendment to the Act for the Recruitment and Employment of Foreign Professionals (外國專業人才延攬及僱用法), which on June 18th passed its third reading.
In short, though civil society proposed the legalization of an asylum process, the government is still inclined to continue with regular immigration pathways such as enrollment and employment to settle exiled Hongkongers. Chiang Min-yen believes that this exposes the greatest restriction on Taiwan's support of Hong Kong - geopolitical factors.
"Taiwan doesn't have much bargaining power geopolitically. Any direct alteration to the legal system might trigger reactions from China. The general stance in Taiwanese society is that steps need to be taken slowly and steadily. This in turn inhibits the development of a legal asylum process." On this point, both Ka-fai and Ah Fung said that they can completely understand the difficulties the Taiwan government faces. After coming to Taiwan, Ka-fai was still followed, and was aware that Lam Wing-kee (林榮基), owner of the Causeway Bay Bookstore who fled to Taiwan for political reasons, had red paint thrown on him upon opening his bookstore, as well as that Aegis (保護傘), a restaurant set up for and run by Hongkongers in exile, had been assaulted with feces. "The Chinese factors in Taiwan are quite conspicuous; I know this with my gut. The thing is, I also know that there is more room to play defense in Taiwan than in Hong Kong." Ah Fung added, "I understand that the Taiwanese government is actually having a really hard time; it's difficult to offer help on the one hand and find a middle ground on the other. If you lay out all your cards helping Hong Kong, China's favourite line is to accuse you of inciting sedition." He feels that the Taiwanese government has already done their best to help, and that he might need half a year to a year's time to get out of his state of unemployment. "But in the end, we're not people of Taiwan. We shouldn't be coming to Taiwan and asking their government to take care of us from start to finish." Yet, he hopes that he can work as soon as possible. "We have arms and legs. If the procedure could allow us to live by our own means a little sooner, that would be better. We really hope to stand on our own feet instead of living off the resources of Taiwanese society."
"As exiles, we don't want to bring Taiwan trouble," said Ka-fai.
From the Forced Closure of Apple Daily to 'Hong Kong Lockdown Ordinance': What Is the Next Step to Support Hong Kong?
The deterioration of Hong Kong's situation has not ceased. After Apple Daily was forced to close in June 2021 due to political factors, on August 1, Hong Kong will go as far as implementing a draft amendment to the Immigration Ordinance (入境條例). This amendment passed on April 28, 2021, giving the Director of the Immigration Department power to restrict any Hongkonger from leaving Hong Kong's borders at his whim, "designating any mode of transportation as permitted or not permitted to transport a particular customer." Hongkongers are deeply concerned that the Director can prohibit any Hongkonger from boarding a flight, describing it as the Hong Kong Lockdown Ordinance (鎖港條例).
Vice Secretary for the TAHR Wang Hsi said, "if the worst-case scenario occurs, freedom of movement for Hongkongers might only last until August 1."
Ka-fai said, the pandemic kept back a portion of exiled Hongkongers who want to come to Taiwan, but this doesn't mean these people won't ever be coming. "This is only the first wave; the 2020 pandemic and the border closures divided the human wave fleeing to Taiwan."
"Everyone can see that every time the situation in Hong Kong worsens, the number of people seeking asylum because of political persecution will only increase. Among that number, there will definitely be people coming to Taiwan," Ka-fai said.
Hongkongers who come to Taiwan through regular immigration means are also on the increase. As a poll done in October 2020 by the Hong Kong Institute of Asia-Pacific Studies, the Chinese University of Hong Kong (CUHK) shows, the three places favoured by Hongkongers for immigration are, respectively, Canada, Australia, and Taiwan. Even under the pandemic, there were 12,389 Hongkongers in 2020 who applied to reside or settle in Taiwan.
Ka-fai hopes that the MAC Exchanges Office can stay in existence, and continue to aid Hongkongers. He believes that, "the existence of the Office can increase the efficacy with which the Taiwan government handles Hongkongers who come to Taiwan. It can manage these people's files; even if later on they slowly take up student residency, work residency, or whatever, you can still find them through the file. Otherwise, they are like a phantom population; it will become harder and harder to trace how they got here in the first place."
He agrees that a screening for national security should be carried out towards those who apply for asylum, to prevent infiltration. "If the MAC Exchanges Office stays in existence, those who are experienced will know better how to distinguish and screen this type of Hongkonger." After beginning his studies, Ka-fai took courses related to politics and read many books related to politics between China, Hong Kong, and Taiwan. He aims to study Hong Kong's democratization, contributing to Hong Kong's movement from overseas, as well as repaying Taiwan's aid. "I can only equip myself, more than just being in exile. Because I understand some of the situations faced by this community in exile, and understand Hong Kong quite well, I can allow Taiwanese society to have greater understanding of Hong Kong issues and facilitate more communication societally."
Building Relationship With Overseas Hongkonger Civil Society
Due to the increasing number of Hongkongers in Taiwan, organizations such as Hong Kong Outlanders (HKO; 香港邊城青年) and the Taiwan Hong Kong Association (THKA; 台灣香港協會) have quickly come into being in the past two years. HKO Convenor Sky (alias) hopes to give structure to the situation of Hongkongers in Taiwan, temporarily replacing the now-defunct HKECTO in Taiwan and communicating with the Taiwanese government from a laypeople's perspective. The THKA plans to hold a Hong Kong Cultural Week after the pandemic, as well as initiating an island-wide Lennon Wall plan (島嶼連儂計畫) to be displayed at a rally on October 1, China's national day. Long-term, they hope to establish a Hong Kong Story Museum, introducing in broad strokes Hong Kong's democracy movement and other elements to the Taiwanese public. "The official relations between Taiwan and Hong Kong have almost completely been severed, but popular relations cannot be suspended," said Sang Pu (桑普), Director of the THKA. Facing the next stage of support for Hong Kong, Chiang believes that, as great changes come to Taiwan-Hong Kong relations, Taiwan should "establish relations with the new Hong Kong", meaning to establish relations with Hong Kong civil society overseas. "These Hongkongers in Taiwan will become our important allies in Hong Kong civil society. In the future, they will vote for pro-democracy parties, because they have a very direct experience of being bullied by China." The other dimension is to allow Hongkongers to take on other Hongkongers. "They are not only fending for themselves; through overseas associations, they can support Hongkonger newcomers, sharing the burden with our government." "In the past, the overseas Taiwanese community shared similar experiences. In the U.S. and Japan, we were given support from the Americans and Japanese. Now, we are only extending this chance to Hongkongers," said Chiang.
Under the Shifting Terrains of the National Security Law, the Mac States: Support to Hong Kong Continues, but We Prepare for the Worst
Under the new circumstances, will Taiwan re-evaluate Hong Kong's position or even revise the Laws Governing Relations with Hong Kong and Macau? Vice Chair for the MAC, Chiu Chuei-cheng (邱垂正) said to The Reporter: "Since this immense shift has occurred in Taiwan-Hong Kong relations, we must make preparations for all sorts of worst-case scenarios. There are some backup plans being discussed, as we continue to observe the situation." Under the Hong Kong National Security Law, even the Hongkonger employees of the TECO Hong Kong may be at risk in the future and need to seek refuge in Taiwan. Chiu spoke frankly that Hongkonger employees might be concerned whether working for the TECO might constitute the risk of violating the NSL, "because the NSL wantonly empties the protections for civil society under the Basic Law. It's up to the NSL to decide whether you've crossed the line."
After June 21, The Reporter attempted to call the TECO. A male Hongkonger employee replied solemnly over the phone, "Though the acting director has already returned to Taiwan, we will continue working and persevere until the end, until the very last day." On June 24, Hong Kong's Apple Daily put out its last issue after 26 years in print, selling out all one million copies. Three days later, Fung Wai-kwong (馮偉光), a former chief writer and executive editor for Apple's English edition, was arrested by police as he prepared to depart from Hong Kong's airport, under reasons of "conspiring to collude with foreign countries or foreign forces to endanger national security," becoming the seventh Apple Daily staff member arrested in a week. Civil society organizations revealed that they have received inquiries from Hong Kong media workers regarding applications for political asylum in Taiwan.
As July 1 approached, three civil society organizations in Hong Kong had already applied to hold the July 1 march to the Hong Kong police, and the Civil Human Rights Front (民間人權陣線) Convenor Figo Chan (陳皓桓), the organizer for the past 17 years, was already in prison. Hong Kong's resistance is not yet over, and the Taiwan Presidential Office Spokesperson had already expressed that Taiwan will continue to conduct its support scheme for Hong Kong, making flexible adjustments according to changes in the situation. On the occasion of the second anniversary of the Anti-ELAB movement, Taiwan's support of Hong Kong will enter its next stage at a sensitive time where the future of Taiwan-Hong Kong relations remains uncertain.
(To read the Chinese version of this article, please click:台灣援港兩年後:國安法流亡潮再起、台港關係動蕩,下一步怎麼走?)
用行動支持報導者
獨立的精神,是自由思想的條件。獨立的媒體,才能守護公共領域,讓自由的討論和真相浮現。
在艱困的媒體環境,《報導者》堅持以非營利組織的模式投入公共領域的調查與深度報導。我們透過讀者的贊助支持來營運,不仰賴商業廣告置入,在獨立自主的前提下,穿梭在各項重要公共議題中。
你的支持能幫助《報導者》持續追蹤國內外新聞事件的真相,邀請你加入 3 種支持方案,和我們一起推動這場媒體小革命。