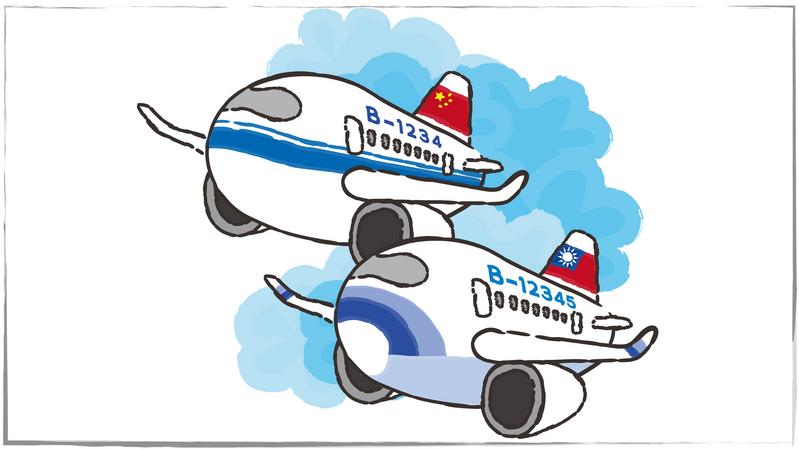 Did you know that planes, like people, also have identification numbers?
They are called aircraft registrations or tail numbers, unique identifiers printed on the tails of every aircraft. They are required for flight plans applications, and generally when landing in foreign airports or passing through the airspace of another country.
If there is a problem with the tail number, (for example, if the international aviation authority does not recognize it) then the aircraft would not be able to land due to its "unknown" identity.
Why Do Taiwan and China Share a Tail Prefix?
International registration of aircraft began with the Paris Convention of 1919. At the time, the Republic of China was assigned numbers with the prefix "X-C" followed by 3 digits.  
But after World War I, and a boom in the global postal aviation industry, countries around the world began to run out of numbers. So the 1927 International Radiotelegraph Convention at Washington begana new round of assignments, with the Republic of China being assigned the prefix "B." In 1947, when the United Nations founded the International Civil Aviation Organization (ICAO), Taiwanese aircraft continued to use the "B" prefix.
In 1971, Taiwan (represented by the Republic of China) was expelled from the United Nations and the People's Republic of China became a member state. Following UN Resolution 2758, Taiwan was also pushed out of the ICAO. Tail numbers of existing aircraft were not changed during this transition, and since China at the time had very few commercial aircraft, and in view of their "One China principle," they simply took over the prefix "B."
Using "Unofficial Channels"
Taiwan and China's tail numbers have been in conflict ever since. 
Taiwanese tail numbers used to fall into three categories: aircraft purchased by Taiwan's Civil Aeronautics Administration had "B+3#" tail numbers, civil transportation industry aircraft used "B+4#", and general aviation used "B+5#." But in the 90s, China's commercial aviation industry began to grow, and civil aviation aircraft were also assigned "B+4#" tail numbers. 
In 1995, Taiwan and China negotiated through unofficial channels to resolve the conflict, in part to avoid confusion, but also to deal with new tail numbers associated with post-handover Hong Kong and Macau. In the end, Taiwan would use "B+5#" numbers (e.g. "B-18901") while China would use "B+4#" numbers. China has since run out of numbers in that format, and their numbers now have an additional English letter at the end. Hong Kong and Macau tail numbers use "B," followed by 3 letters (e.g. "B-LAD").
Even though the suffix numbers have different formats, the coinciding prefix letter still causes mix-ups internationally. On top of that, Taiwan has recently dispatched their national carrier to deliver face masks and other supplies to various countries facing shortages during the COVID-19 pandemic, but the name "China Airlines" has caused people to mistake the aid as coming from China.
Airlines also have four different associated titles: their official name, ICAO code, IATA code and IATA airline prefix code. For example, China Airlines is the official airline name, the ICAO code is CAL, the IATA code is CI and the prefix code is 297. Moreover, the IATA recognizes that China Airlines belongs to "Chinese Taipei" — the same country designation Taiwan uses in the Olympics.
If an airline wants to change its name, they need to apply to at least five different organizations, including their domestic aviation authority, international aviation authorities, the International Air Transport Association (IATA), the ICAO and their underwriting insurance company.
Why Is Renaming China Airlines Such a Sensitive Topic?
Typically, renaming an airline is a simple administrative procedure. For example, Singapore's Scoot and Tigerair were merged to Scoot Tigerair, and the new airline inherited the air freedom rights for both. But renaming China Airlines would be difficult and costly, given the fraught relationship between China and Taiwan.
Air freedom rights and landing slots are incredibly important to airlines. Without air freedom rights one cannot fly, and without good landing slots an airline cannot stay competitive. There are many open flight routes to Taiwan that are not used because their landing slots are not economically viable. In the early days of the COVID-19 pandemic, many European airlines flew empty planes fearing that too many cancellations would result in forfeiture of their coveted landing slots.
Each country's civil aviation authority has the right to make decisions regarding air freedom rights and landing slots, with the ICAO having no formal authority. However, the ICAO still has a degree of influence. Because of long-standing pressure from China, Taiwan has been unable to gain even observer status at the ICAO Assembly. There is a risk that if China Airlines changes its name, its air freedom rights and landing slots could be lost.
Similarly, if Taiwan wanted to resolve the confusion of having the same "B" tail number as China, it could request a change to the currently unused prefix of "T" or "TW".  However, Taiwan can only apply for a code change at the ICAO, and would also need to request each and every international aviation authority whose jurisdictions Taiwanese planes fly over or land in. Should the ICAO reject the change,  Taiwanese aircraft could run into issues when filing international flight plans.
A Pattern of Political Interference
There is a precedent for Taiwanese planes not taking off for political reasons. 
Following the SARS epidemic in September of 2003, Taiwan began to issue passports with the word "Taiwan" on the cover.  At the same time, Taiwan painted China Airlines' air shuttles with the slogan "TAIWAN, Touch Your Heart", the slogan for their new tourism campaign.But a number of international airports unexpectedly removed China Airlines' tail number (B-18209) from the approved list of registered airlines, meaning the planes no longer had permission to land.
In the end, the first airplane to bear the name "Taiwan", never left its hangar. Its maiden flight to Japan was cancelled, and it did not fly until it was given the usual China Airlines paint job. 
(To read the Chinese version of this article, please click: 真的假的?不只華航名稱爭議,台灣飛機身分證編碼也和中國「撞名」? )
用行動支持報導者
獨立的精神,是自由思想的條件。獨立的媒體,才能守護公共領域,讓自由的討論和真相浮現。
在艱困的媒體環境,《報導者》秉持深度、開放、非營利的精神,致力於公共領域的調查與深度報導。我們透過讀者的贊助支持來營運,不仰賴商業廣告置入,在獨立自主的前提下,穿梭在各項重要公共議題中。
您的支持將有助於《報導者》持續追蹤國內外新聞事件的真相,促進多元進步的社會對話。請與我們一起前進,共同推動這場媒體小革命。
本文依 CC 創用姓名標示-非商業性-禁止改作3.0台灣授權條款釋出