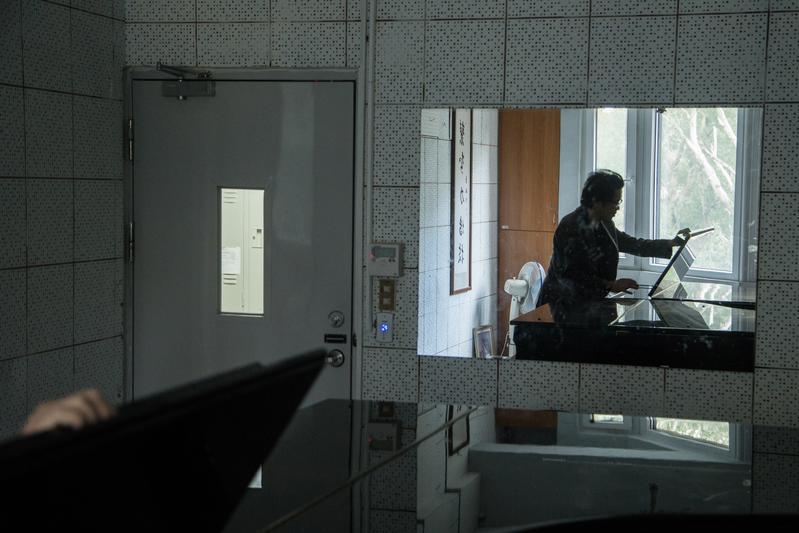 Gordon S.W. Chin (金希文) blends Taiwanese elements in Western classical music. He has written  many symphonies, and has even composed a Taiwanese language large-scale opera. At the age of 60, he has become a recipient of the 2017 Taiwan's National Award for the Arts.
In a discussion about commonly-known modern musical composers, everyone knows  Gordon S.W. Chin.
He holds many positions: composer, conductor and music director of the Yinqi Symphony Orchestra and Chorus, and professor of Music at National Taiwan Normal University.
He is often invited to compose for domestic and international music groups and musicians. Many groups, including the Yinqi Symphony Orchestra and Chorus, National Symphony Orchestra, Taipei Philharmonic Orchestra, National Taiwan Symphony Orchestra, Taipei Percussion, and Ju Percussion Group release new compositions almost every year.
As a conductor, he cannot be outdone. He has conducted more than 300 concerts and musical presentations.
Rearrangements of his symphonies and choral compositions "Golden Beam on the Horizon of Formosa," (《日出台灣》) "Nightfall and fragrant" (《黃昏亦芬芳》) were selected as part of junior high music curriculum.
In the basement office of the Yinqi Symphony and Chorus, when asked how he felt when he learned he was awarded the National Award for Arts, Chin jokingly said, "It's probably because I'm old enough, and my social connections aren't too shabby."
He had been nominated many times before. Winning the award this year was not an unexpected surprise, but also not inevitable. It is similar to the feeling he gives others, gentle  as water.
In our conversation, he has the refinement of a musician. A consummate reader, he readily quotes philosophers, writers, and musicians at all times. Authentic Taiwanese Hokkien frequently escapes from his lips, and his self-deprecating humor makes him endearing.
One point mentioned in the evaluation for the National Award of Art is:  "Emphasizes and explores how to blend Taiwanese elements and imagery in a work." "Taiwanese flavor" has become a mark of his music. But in the beginning, he did not realize it would become the subject  he would explore in his compositions.
A major shift occurred in 1994.
Composition With International Standard, But Lacking Taiwanese Essence
In 1994, the Music Festival of Taiwanese composers (organized by Cecilia Chueh, who had long been promoting Taiwanese music in Vancouver) invited the Vancouver Symphony Orchestra to perform works written by Taiwanese composers: including Changhui Xu (許常惠), Tyzen Hsiao (蕭泰然), Cyuan-sheng Lyu (呂泉生), and Gordon S.W. Chin (金希文). This was the first time a North American orchestra performed an entire concert of Taiwanese compositions.
This concert was also the world premiere of Chin's "Kua Fu Chasing the Sun"  Lin Hen-Jer (the publisher of "New Wave Collection" (新潮文庫) who strived to promote Taiwanese musicians on the international stage) was in the audience, and wrote down his thoughts: "Gordon Chin's symphonic poem was only 10 minutes, but you could already hear his overflowing talent. [He] is very familiar with how to apply the modern Western orchestra, especially the percussion instruments. There are very few composers in Taiwan that can surpass him."
Lin also candidly shared with  Chin one fault of the work. Chin still clearly remembers the review: "There is no Taiwanese flavour."
Chin completed "Symphony Number 3 - Taiwan" in 1995. This was the first symphony with the theme of the 228 Incident. In the second movement, "Dark Night", the melody of "Rain Night Flower" flowed out of the clarinet, bassoon, oboe, and other reed instruments. The Vancouver Symphony Orchestra performed the world premiere in 1996.
A year later, music critic Timothy Mangan would write in the Los Angeles Times: "It reveals the composer as a confident master of the Western modernistic large orchestral idiom used for dramatic rather than abstract purposes."
Later, Gordon Chin would compose "Melody Recalling Taiwan Fondly", and "Nightfall and fragrant", to commemorate the 921 Earthquake, blending the aboriginal melody "Song without words", and other works. Taiwan became the subject of his compositions.
Perhaps some people will ask: What is 'Taiwanese essence'? What is 'Taiwanese music'? These questions do not have set  answers. Even Chin does not venture to answer them.
Combining source material from Taiwan, such as a Taiwanese folk songs or aboriginal music, composing in the Taiwanese language, or using Taiwan as a theme, for Chen, is deliberate. "Truly 'grown' from this land of Taiwan and reflecting a humanistic care for society, is what the music of Taiwan is really all about," says Chin, "I may not be able to do it, but perhaps my students or someone else will be."
But Chin did not stop. A few years later, he started another task that was almost impossible to complete.
The First Taiwanese Language Opera Takes The Stage
The heartbreak started in 2000. In a casual conversation with a friend, the topic arose about  the disconnect between Taiwanese concerts and social reality. "The influence of a concert is mostly isolated within the four walls of the concert hall. It is impossible to resonate throughout  society," Chin wrote in his book, Mackay - The Black Bearded Bible Man: The Birth of an Opera. Someone suggested that opera, with drama, songs, dance, stagecraft, and many other elements, may be able to shatter the barrier between music and regular society.
In the end, everyone decided to use the life of Mackay as the theme of the opera. For historical accuracy, Taiwanese would be the main language. Chin had never written an opera before, let alone a Taiwanese language opera.
But even before starting to write, Chin was almost ready to give up. After contacting many foundations and companies, he was continually met with disinterest. In 2002, he hesitantly made a proposal to the Council for Cultural Affairs. Mackay - The Black Bearded Bible Man finally had an opportunity to come to life.
The ordeal of creating began. There was first an issue with language. "With Taiwanese, regardless of whether it's spoken or written, it seems like there will always be different opinions. Different wording or accents would directly influence the flow of the music," Chin said.
Another difficulty was how to seamlessly combine the story and music. The story would progress with time, but the music could not constantly have new material added or undergo new developments. Music needs some basic elements, or a repeating pattern, to link the entire musical composition. "With music that needs to go along with a storyline - how does one maintain a sense of completion in terms of structure? How does one make the direction of the music match the storyline?"
After a period of two and a half years, Chin finalized the first version of the script and music with playwright Qiu Yuan (邱瑗). But soon, there was another long wait. There was no set date for the staging.
It was not until 2007 when a performance was agreed upon that Chin started revising the script and music, and started rehearsals.
American, Korean Musicians Singing Opera In Taiwanese
Next, the actors would be put to the test in another unthinkably difficult challenge. There were two sides to the performance:on one side, there was the East Asian-linguistic pronunciation of Taiwanese. The other side was the vocal training of bel canto from the West. How could the two be blended? What needed to be done so the audience understood what the artists were singing?
The chairperson of the Council for Cultural Affairs at the time, Chen Yu Chiou (陳郁秀), extended a special invitation to Taiwanese Opera actors Liao Chiung-chih (廖瓊枝) and Tang Mei-yun (唐美雲) to sing the Taiwanese lyrics in the style of Taiwanese opera. The recordings were given to the actors of "Mackay - The Black Bearded Bible Man" to listen to.
Another hero was vocal music director Chu Hui Hsin (朱蕙心). She was working at the New York Metropolitan Opera, and took two leaves of absence to return to Taiwan. She advised the singers on adjusting their Western vocal technique to sing Taiwanese lyrics, including mouth shape, placement and sounds of vowels and consonants, and breathing technique, etc.
The artists performing the opera made up a miniature United Nations. The baritone singing the part of Mackay, Thomas Meglioranza, was from the United States. Seung-Jin Choi, the artist playing Yen Ching Hua, Mackay's oldest disciple, was from Korea. For them, conquering Taiwanese was the biggest challenge.
Meglioranza had to first use the International Phonetic Alphabet to mark the eight tones of Taiwanese. Then he asked two Taiwanese friends to record his lyrics: once very slowly, and once at normal speed. At the same time, he spent a lot of time closely reading the translation of the lyrics to understand their meaning. Finally, he asked two Taiwanese people to record the lyrics as if they were in conversation. This way, he would know the differences in Taiwanese at different tones and pitches, and the differences in spoken Taiwanese.
In 2008, after so many twists and turns, the first Taiwanese Western opera "Mackay - The Black Bearded Bible Man" debuted at the National Theatre. It had been six years since its initial  proposal.
These days, none of this was ever  what Chin had planned in advance. Before attending university, he never considered becoming a professional musician.
It's Not Worth It To Have A Job Just To Live
The ties that linked  Gordon S.W. Chin to music was organic. Having just turned sixty years old this year (2017), he was born in Douliu, Yunlin County. His father was a high school music teacher, so he began learning the piano at the age of five. But to him, music was only a favorite hobby. "Sometimes using it to be in the limelight was not bad," jokes Chin. He never thought of becoming a musician or composer.
His family moved to Japan after he finished elementary school. He did not know a word of Japanese, and was unable to communicate with anyone. At the time, he would sing to himself, even composing songs. Facing significant depression, music became his life raft, and he held on to it tightly. In his third year of junior high, he converted to Christianity after meeting a couple at a nearby church for overseas Chinese.
After graduating high school, Chin turned to the U.S. and entered Biola University in California. He surprised everyone by choosing to major in mathematics. "At the time, I didn't think of pursuing music. It seemed to have its limits economically. It was a decision based on reality."
However, life can take a turn because of particular people, or particular situations. His Christianity pulled Chin back into the orbit of music. "If work is only for making a living, this job is not worth it. I should think about what a worthwhile job is."
After receiving dual degrees in composition and piano, Chin headed to Rochester, New York for a PhD in music composition at the Eastman School of Music. Even though he had the opportunity for a job in the U.S., he moved back to Taiwan in December of 1988 without any hesitation. "It didn't make a difference if the U.S. had Gordon Chin or not.. I decided early on to return to Taiwan. I felt like this is where I could be of use."
"Apathy is not the specialization of the student, I suffer from it too"
Before returning to Taiwan, Chin composed constantly, and released new works  almost every year. His numerous works were admired by many.
"It was 'bitter art'." said Chin. Originally he hoped to be able to share how he was able to maintain his creative output; but he only had two words to sum it up.
Winter and summer breaks are the best times for him to create. After waking up at 10am every day, he could sit for more than 10 hours. "It's just like a farmer waking up every day to work the fields. Even though I cannot control the end product, at least I can control the effort put into the process. The people we historically refer to as geniuses are not called that due to their talent. Instead, they went through long periods of hard work, and they had the ability to endure more hardship than others. "
When inspiration wanes, he reads a book of poetry. During class, he often shares his favorite poems with his students.
However, everyone gets inertia, and in this way the world is fair. Chin does not believe he has any special powers. "I often tell my students, laziness is not their specialty. I can be lazy too. Sometimes I will waste time for 15 to 30 minutes: making tea; cleaning my desk; exercising; or doing any number of irrelevant things because I don't want to face what I'm supposed to," he says, smiling.
To Chin, the difficulty is not being without inspiration, but is to break through one's past self, "The next tune is always the most difficult."
But he is always able to come up with something creative, often giving musicians unexpected surprises. He once required the cellist to play with a plastic folded fan. The audience saw the cellist suddenly open the fan, and then used it to hit or drum the face of the cello. The audience could also see percussionists ripping,crumpling,or fluttering paper, and creating other unusual sound effects.
Don't Let Life "Enter The Mountain But Leave With Nothing"
Outside of composing, Chin constantly keeps in mind Taiwan's music education. "It's not that young people don't like classical music. They don't have access to it. There is no one to help them understand classical music."
He hopes to become that bridge between students and classical music. He already has a plan that he has been mulling over for many years. "I wish to give all Taiwanese high school students the opportunity to hear classical music, and to customize a concert just for them." It wouldn't be a concert at school, but instead students would be brought to concert halls or cultural centers. "This would let them know, the cultural centers are not that far from us. We can go at any time. It's not a separate world."
He believes that the world of classical music will resonate with young people. Just like it did that year, when a thirteen year old boy in Japan threw his own depression into music. He entered the mountain, and returned from a rewarding journey. Now, he wants to become a guide for the younger generation.
During the course of the interview, the most memorable part was when Chin shared the words of a famous rabbi Nahan Mund: "My task in this mortal life is to find the internal and external emptiness of humankind, and to fill it. In the end, philosophers, scientists, artists, and theologians are all alike. We will need to face internal and external emptiness, and then make a decision."
Gordon S.W. Chin made his choice and returned to Taiwan to create music that belongs to this land. He chose to walk into  school, and cultivate future composers. It is just as he said: "Heaven gave me this piece of land, I will do my best to make things grow from it." After 60 years, this piece of land is already bearing  clusters of fruit.
(To read Chinese version of this article, please click: 台灣雨夜花遇上西洋交響樂:首部台語歌劇作曲家金希文)
用行動支持報導者
獨立的精神,是自由思想的條件。獨立的媒體,才能守護公共領域,讓自由的討論和真相浮現。
在艱困的媒體環境,《報導者》堅持以非營利組織的模式投入公共領域的調查與深度報導。我們透過讀者的贊助支持來營運,不仰賴商業廣告置入,在獨立自主的前提下,穿梭在各項重要公共議題中。
你的支持能幫助《報導者》持續追蹤國內外新聞事件的真相,邀請你加入 3 種支持方案,和我們一起推動這場媒體小革命。