It wasn't until Nguyễn Văn Chac sat down on the airplane, that he finally had time to settle down, and talk to his brother.
In the early morning of 14 December 2017, his 20 year-old brother, Nguyễn Văn Trãi, died in a fire in the factory dormitory that he was staying at in Taoyuan's Luzhu district - just a week before they were due to go see the Christmas tree again.
After the fire, Nguyễn Văn Chac made all the necessary arrangements, including claiming the body, calling back the soul of the deceased, cremating the body, and even taking to the streets to protest for a thorough investigation into this accident by the Taoyuan City government.
When he returned to the site of the fire to call back his brother's soul, a Taoist priest told him to call his brother's name so that he could return home. Not believing in ghosts, Nguyễn Văn Chac stated, "I didn't do what he told me to because I didn't believe it then."
Sitting in the narrow aircraft seat, he clutched  the backpack that held the urn with his brother's ashes against his chest with both arms, and apologized to his brother. "I've never had to do this kind of stuff before, so please forgive me if I do things improperly. All I want to do is to bring you home to Mom and Dad as soon as possible." Nine months after leaving Vietnam, Nguyễn Văn Trãi finally returned home.
The flight from Taipei to Hanoi took about 3 hours. After that, they had to transfer to a bus at Ben Xe My Dinh in the west then changed again to a minibus. Around 7 hours later, they finally got home in Huyện Cẩm Khê Tỉnh Phú Thọ. However, instead of tears of joy they were greeted with cries of grief.
"Why is it that two of my sons went abroad for work but only one returned?" Their dad Nguyễn Huy Thản asked again and again.
On February 21, I retraced my steps along the route that led to the return of the bones to their homeland. The sky was cloudy in North Vietnam, and it had rained for days before, turning the mountain road into a muddy field.
Nguyễn Văn Trãi's home is a double-storey building of tiles, wood and iron located in a mountain pass in Cam Khe district. When he was young, he worked as a construction worker in town and could barely support his family on a salary of 80,000 VND (about 100 NTD) a day.
" We built our own house without taking on any debt, and it took us ten years to complete this work." Nguyễn Huy Thản said with pride. What made him prouder was that his two thoughtful sons worked in Taiwan to make money for his medical treatment and to fulfill the dream of a better life for their family.
As the youngest child, Nguyễn Văn Trãi was particularly attentive. One time at age 8, he didn't see his dad when waking up, so he rode his bike to a construction site to look for him. By dinnertime, he hadn't gotten home yet. It wasn't until his family were about to report him missing to the police that the crying boy taken home by a police officer. Growing up without teenage rebellion, he told his father, "People today take money very seriously, but what I value most is the warmth and the closeness of family."
Later on, he decided to earn money in Taiwan. The night before leaving, he was being affectionate to his dad with a hug while sleeping. Nguyễn Huy Thản recalled that early morning, Nguyễn Văn Trãi was reluctant to wake him up, just whispered in his ear, "Dad, I'm leaving for work now. Don't worry about me. I'll be back soon."
However, a big fire extinguished the  family's happiness forever.
Nguyễn Văn Trãi's elder brother told me that since his younger brother died, there's been a strange silence at home; no conversation, no laughter and no crying.
Nguyễn Huy Thản would stare absentmindedly at his son's photo, as Phan Thị Hiện, his wife, couldn't help rubbing her son's portrait over and over. Once shedding a tear unintentionally, she would wipe it off before anyone could see.
Nevertheless, Nguyễn Văn Chac couldn't stop blaming himself. " Before my brother came to Taiwan, I was going to  visit the factory and find out what they did there and see how the dormitory looked. It was my fault that I didn't stop him from coming here." Nguyễn Văn Chac had a close relationship with his brother. They shared one single bed since they were little children, and they did so even when working in Taiwan. On weekend afternoons, they would take a nap together as they used to do.
The brothers supported each other in Taiwan, and had many wonderful memories. Every weekend, Nguyễn Văn Chacwould buy more cooking ingredients and make food in his brother's dormitory. " My brother just came to Taiwan, and he usually told me he was hungry. As a newcomer here, he had no time to cook while the others finished." After meals, they would take a nap, sing and live stream, go to church, go around Shilin night market, and visit the tallest Christmas tree in Taiwan.
Yet during these days what he no longer wanted to remember was the scene on the day when he claimed his brother's  body at the morgue. The first thing that made him feel the presence of death was the strong smell of formalin in the funeral home, the air conditioning in the room made people shiver involuntarily, and the daylight lamp on the ceiling flashed a cold light. The administrator led him to the 12th freezer, pulled out a body bag and pointed to say: this is your brother. " I was not a bit convinced that it was my brother.  They just pointed to a body and said that it was my brother." InNguyễn Văn Chac's memory, his brother was 1.68 meter tall, 60 kilograms, a strong young man, but "those bones looked so small, and were packed together with others in a freezer."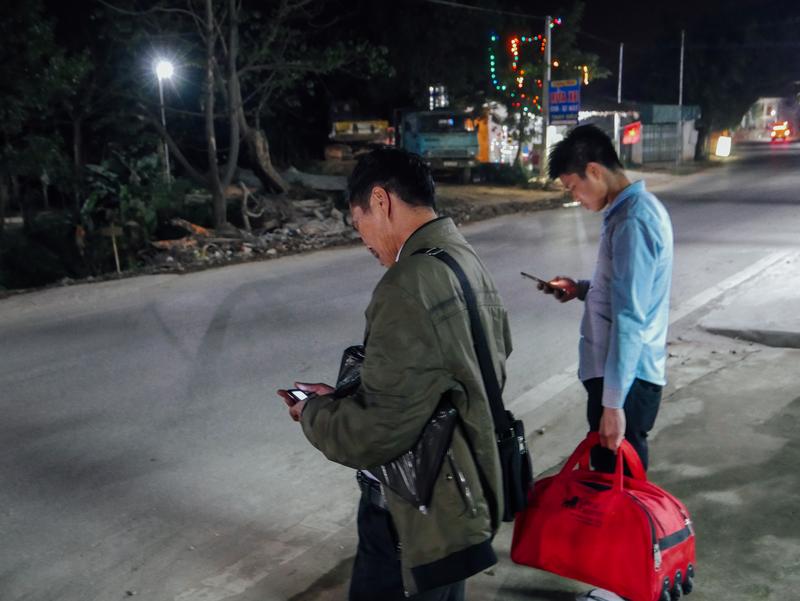 In the one single freezer besides Nguyễn Văn Trãi was Hoàng Đình Dư, another victim died in the same fire accident. It was easy to locate Hoàng Đình Dự's home. " Do you know where the house of the man who died in Taiwan is?" These words were like a secret password from the moment I arrived at the village. The driver, the street hawker, and the drink vendor - everyone was able to give me directions and lead me to his house.
Their hometown is located at Cẩm Giàng, Hải Dương Province. It is a barren village where only the old and weak live. Over half of the young people work abroad , with 70% to Taiwan, 20% to Japan and 10% to South Korea.
At the entrance of the alley, the lady who led the way pointed to a three-story concrete block house in the distance, indicating that it was the destination. The house stood out from the rest of the low-rise bungalows, with the number "2016" tiled to represent the year it was completed.
"In the past, our house was smaller than the current living room." Hoàng Đình Duy, the eldest brother in the family, told me that their family is a typical story of a family that went abroad to work and turned their economy around.
Four siblings all went to work in Taiwan. In just a few years, their family has transformed from a poor family whose mother worked as a resource collector to one of the most elegant houses' owners in the village, attracting the envy of neighboring villagers. From time to time, people visit the family in hopes of getting a job abroad, and their mother, Nguyễn Thị Rộng, has taken on the role of a broker, introducing about 60 Vietnamese to work in Taiwan a year.
Her wide, symmetrical eyelids were drooping, her eyes were swollen from crying, and exhaustion and frustration were written all over her face. To this day, she still can't accept that her son is gone.
There was a time when the siblings were all working abroad, and only their mother and Đình Dự were in the house. Life in the countryside was quiet and simple, and the Wi-Fi signal was very weak. Although the old woman did not care about using 3C products, Hoàng Đình Dự kept holding his new smartphone and saying that he was bored all day long. As a result, his mother found a person in the town just to set up a Wi-Fi router in his room.
Now, when she offers incense for Hoàng Đình Dự, she sometimes still asks reluctantly, "I'll buy you anything you want. How could you leave me all alone?"
In fact, it was the second time that the 25-year-old Hoàng Đình Dư went to Taiwan to work. After graduating from high school, he worked with his sister and sister-in-law in a textile factory in Houlong, Miaoli, and went to Taiwan again to get married to his girlfriend.
Next to the house built by his brother, the old family home was also converted into a two-story bungalow, originally reserved for the wedding. "I want to build another floor up, just like my brother's house," he said. He told his mother that he had only signed a short-term contract for two years and paid an agency fee of US$5,000 for his trip to Taiwan, and that he would return home when he had saved enough money.
This time when her son was about to go  abroad, Nguyễn Thị Rộng somehow felt distraught. She asked her eldest son and daughter to take turns to persuade him not to leave. Hoàng Đình Duy asked him to stay in Vietnam to take care of his family, and told him: "I'll take care of the money you need to build a house." However, maybe out of self-motivation to establish a family, Hoàng Đình Dự was determined to go abroad. The day before he left home, his mother cooked a special meal to worship ancestors and gods, hoping they would bless her son and keep him safe on his trip. But she never expected that not even three months after her son left home she would be notified of her son's death.
Soon enough, the death of Hoàng Đình Dự is widely spreading all over the township. In the afternoon of a weekend, there are a couple of men gathering together complaining to me in accented Mandarin. "Going to Taiwan for work is dangerous!" "Our living conditions were not very good." "A son of one of my uncles had his hand cut off by a machine".....
Migrant workers like them are not Taiwanese, but they are an integral part of Taiwan. They hold up garment industry, as well as steel machinery, automatic machines, plastic materials, building construction and other areas that are important to the well-being of Taiwanese.
"Do you still want to work in Taiwan again?'' I ask.
"I am still going back to Taiwan after the New Year." A middle-fit male in the crowd who currently works in Guishan, Taoyuan, smiled and said, " I haven't finished paying off the brokerage fees yet."
I asked Nguyễn Văn Chac and Hoàng Đình Duy the same question. "After your brother's death, will you still go back to Taiwan?"
"I won't go back there, I found out it is risky working there," Nguyễn Văn Chac said. If he could do things over again, he would not believe in the agency's words, "The agency sugarcoated everything, and said that the working environments in Taiwan are pretty good, and it's easy to earn money, but the truth is that it's not like this."
Hoàng Đình Duy is not willing to go back again. He faced a severe occupational injury while he used to work in an electroplating factory, the sulfuric acid caused him skin burn. After a three month break, he brought his brother's ash back to Vietnam. But a strong sense of guilt is not from his brother, but from his son at an age of elementary school. During the interview, I saw him try to take his son's hand several times, but it was cleverly dodged.
In fact, Hoàng Đình Duy was really positive during the interview. He found his brother's relics, and brought me to meet up with other Vietnamese who worked in Taiwan before. "Through your report, I hope that the authority of Taiwan can take the rights of Vietnamese workers more seriously." He believes that, if the conditions of workers can improve, he can let his children live a better life.
"I hope my son can go to work in Taiwan in the future." He speaks mournfully, "Look at those farmlands here, they were all transformed to factories of Taiwanese and Koreans. Pretty soon, there will be no more farmland for my son to farm."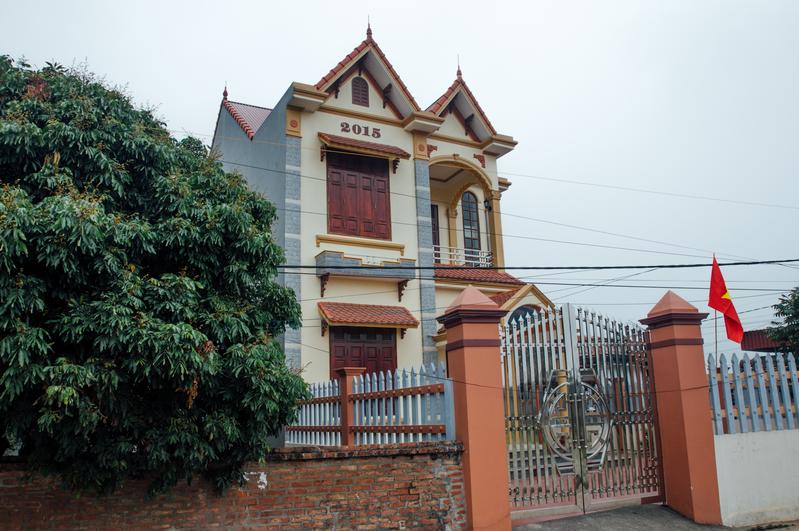 (To read Chinese version of this article, please click: 從台灣到越南,傷心的屍骨還鄉路)
用行動支持報導者
獨立的精神,是自由思想的條件。獨立的媒體,才能守護公共領域,讓自由的討論和真相浮現。
在艱困的媒體環境,《報導者》堅持以非營利組織的模式投入公共領域的調查與深度報導。我們透過讀者的贊助支持來營運,不仰賴商業廣告置入,在獨立自主的前提下,穿梭在各項重要公共議題中。
你的支持能幫助《報導者》持續追蹤國內外新聞事件的真相,邀請你加入 3 種支持方案,和我們一起推動這場媒體小革命。